----------------- 18 April 2014 -----------------
50 Years Statistics coming soon

Watch out for the statistical data for 50 years German Plus, including top scorers, games played and some highlights.
----------------- 14 February 2012 -----------------
Numbers day - Statistics updated until 2011
2011 Highlights:

300th Game: Irfan (19.2.)
250th Game: Ralph (19.3.)
200th Game: Michael C. (Michi, 22.10.), Andre (15.1.)
100th Game: Vali (18.6.), Marcel (23.4.)
50th Game: Konan (22.7.), Emir (22.7.),j Jörg G. (22.10.)

50th Goal: Michael C. (Michi, 6.8.), Andre (8.2.)

108 Players fieled, 34 Goal Scorers in 48 Games with 188 Goal scored
The statistics have been updated: Data has been released and the all-time figures brought up to date. More ...

----------------- 16 January 2011 -----------------
German Plus Team 2010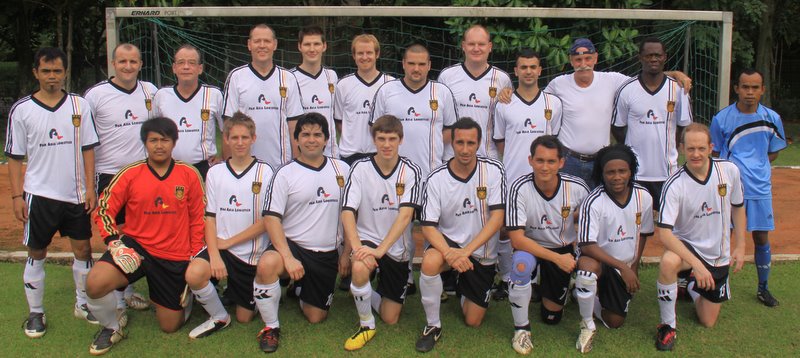 back row (from left to right):
Irfan - Emir - Howie - Arne - Henrik - Thomas - Simon - Christian - Volkan - Dieter - Sammy - Konan

front row (from left to right):
Bayu - Nico - Oliver - Jan - Michael -Mathias - Albert - Marcus

----------------- 15 May 2010 -----------------
Germany Wins World Cup 2010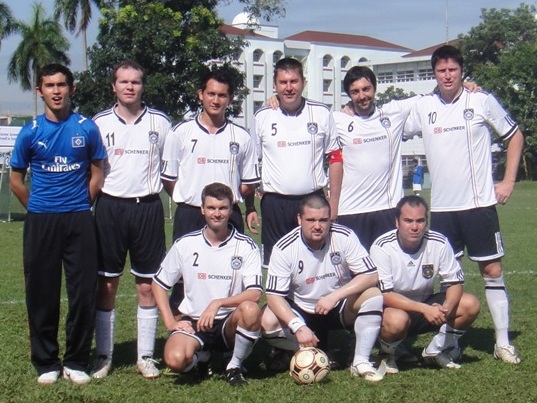 The International Sports Club of Indonesia (ISCI) hosted the World Cup Tournament 2010 on 15 May 2010 with pPlayers from 20 countries.
Germany competed with Japan, Korea, U.S.A., Canada, Denmark, England, Scotland, Spain, France, Neteherlands, Monaco, Italy, Ireland, Russia, Iran, India, Singapore, Cameroon (Champion 2006) and Indonesia (Champion 2008).
In a thrilling final Germany overcame Indonesia in a penalty shoot-out to take the crown home:

"Germany is World Champion 2010" – Read more (German only) ...

----------------- 1 May 2010 -----------------
German Plus Team 2010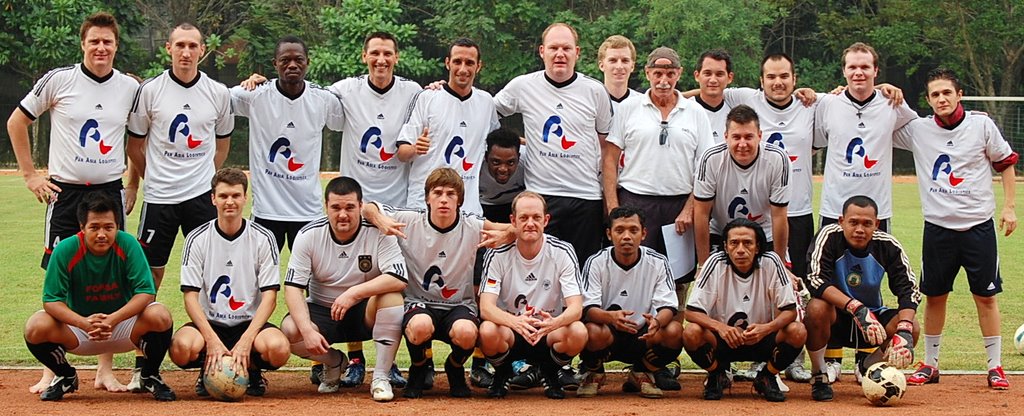 ----------------- 1 March 2010 -----------------
Numbers day - Statistics updated until 2009
1,400th Game: Dieter Cremer (10 October)
900th Game: Peter (Howie) Hinsch (3 January)
600th Game: Herman Saut (19 September)

150th Goal: Ralph Scheuermann (18 November)
50th Goal: Nikolay Meißner (8 August)
50th Goal: Emir Dzafic (19 September)

89 Players fieled, 37 Goal Scorers in 49 Games with 222 Goal scored

The statistics have been updated: Data has been released and the all-time figures brought up to date (until 31 December 2009). More ...


----------------- 27 February 2010 -----------------
German Plus - In New Outfits ...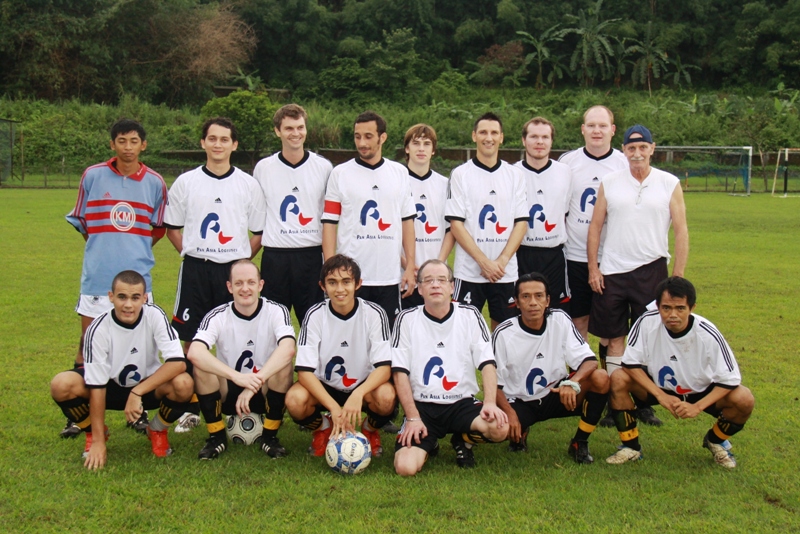 ... thanks to HOWIE und PAN ASIa LOGISTICS Indonesia - Your Leading Logistics Provider


----------------- 3 January 2009 -----------------
Season Greetings - Statistics for 2008 to come

No worries: The webmaster has not forgotten German Plus. He is alive and kicking (currently in Gerrmany).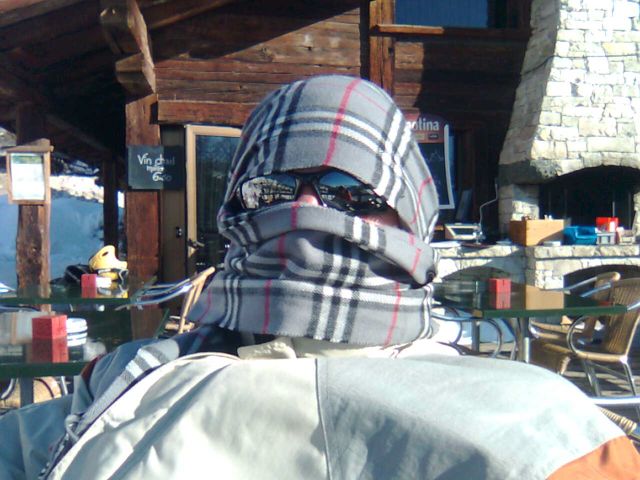 After moving closer to Jakarta time seems to have slipped through the hands which has also effected work on the website. However, I have kept track of the statistics and used the long winter nights during these days in Europe to compile the data which is now in its final review, waiting to be published during the next days. Not too many suprises, but of course the year 2008 has seen its share of round numbers and brought some shifts in the eternal tables.
With this I wish all of you another fun year at German Plus, be it on the pitch or at the beer drinking competition or as a sponsor with Howie's Newsletter as the link to the club, and keep up the quest for superlatives. For some 1,000 games are in reach and the all-time scorer crown is also still up for grabs.

----------------------- 23 December 2007 -----------------------
A word from the "President"
or "What happened 2007"
Hello Plusler,

Another year with German Plus comes to an end. What comes to my mind (not in any special order)?

Mathias and Andre are slowly building a new team. And I mean SLOWLY.

The shoulder of Mathias has become steady again and he has taken up his quest for the G+ top scorer once more.

Andre, the young husband, funnily still seems to be in the 2nd month.

Helmut and Moritz have secured lucrative deals abroad and left us.

The "Stube" has itself established as the German Plus meeting place. "Jägermeister", as a liquid meal, seem to be preferred over the other offers on the menu.

Bernd has attained a sharp profile as the grill master.

Kai has put his professional career "on the nail" (retired).

Ralph still has the best vocabulary, especially when it comes to the referees.

The cigarette has won the contest against Howie. Thus, Howie will have to come up with something if he wants to become the top goal getter of G+.

German Plus will play Saturdays in Serpong and – out of nostalgia – Wednesdays in Ciputat.

The African hound dogs have vanished (our plan to copy Arsenal did not work out).

Karl-Heinz, on whom we put our hopes to get cheap handbags, has been head hunted to Bali.

This year, German Plus could only score in the "Stube" with his scoring star "Jägermeister".

This should change in 2008.

I wish you all a Merry Christmas and a healthy New Year 2008!

Dida

----------------------- 1 December 2007 -----------------------
Desaster strikes again
Kick off had been set for 15.30 at BIS: Great start before the match! Why? ..... because Doit had a complete team, in contrast to the G+, our team consisting of only 7 players and a big disaster was coming up. ... more
----------------------- 24 November 2007 -----------------------
Licht und Schatten
Some more dark moments against the Wanderers on November 14 were followed by moments of light on the rainy slopes of Sentul against Team Japan (maybe because on that day it was for once not raining) ... more
----------------------- 10 November 2007 -----------------------
This and That
Lufthansa Düsseldorf in Jakarta
by "Sportsfreund" Karlheinz

| | |
| --- | --- |
| 1, | Your trip to Jakarta should at least be documented properly regarding the match against German Plus: G+ 0 - Lufthansa 3 |
| 2. | It was nice getting to know you and we had lots of fun with your "rheinisch" humour and all. |
| 3. | Another get together with all team members should be made possible in a few months (not light years). |
| 4. | When reading these lines you should have landed in Old Germany again. The photo should be good enough to be publizised in "Kicker" magazine. |
| 5. | All the best for the rest of the year. Since it was my last game for German Plus I not only had to say good bye to you. |
| 6. | A Lufthansa magazine with a report on our teams meeting would be nice to have. |
Statistical Highligts
July - October 2007
July 2007
Irfan Syaripudin playes his 200th game (4/7/2007)
Irfan joined German Plus in late 2004 and has been playing almost every game since then. This already brought him to the top thirty on the all-time players list. He also scores for the team on a regular basis and could become a real threat to the guys now at the top of the scorers list. He now has 101
goals to his count, an average of 0,.. goals per game (calculate for yourself). But this is a different story at a time in the (not so far?!) future ...


Ardi (aka Adhi) plays his 200th game (20/7/2007)
Ardi has also been with German Plus since 2004 (however, there are another two games noted and counted for him in 2000). His qualities lie more in defense, nonetheless, he managed to score 12 goals up to now (so no need to calculated his scoring rate).
August 2007
Mathias Cremer scores his 100th goal (4/8/2007)
Mathias plays for German Plus since 1997. He is part of the Cremer dynasty (some say clan) and need 468 games to achieve. With a hundred goals he belongs to the top 15 goal getters of the club, but still has at least a hundred to go before he reaches the very top. Which does not seem out of reach when looking at his scoring rate per game (0,21). At a rate of 50 games per year he should be there in another 6 years. So keep on truckin', Mathias
October 2007
Frank Kleinteich scores his 50th goal (13/10/2007)
It was the first of 3 goals he scored that day and his 75 game for German Plus. So here again, one of our top scorers whose average goals per game is second to almost none (Simon Husin being one: 111 goals in 62 games, Marco Fleischmann another: 168 goals in 114 matches). Frank has been with us since 2004.

----------------------- 3 November 2007 -----------------------
Another desaster
Both teams started with just eleven players and looking at our start-up team I was expecting a major desaster. We even had to field a sponsor of German Plus, who never ever played before and just jumped in to make sure we could provide a full squad of eleven. And I was right, ... more
----------------------- 27 October 2007 -----------------------
Back to Normality
Another close call - another game lost
German Plus didn't play bad, but BuGils scored ... more
----------------------- 20 October 2007 -----------------------
Helmut: Shooting German Plus to happiness and giving some reason for (farewell) tears
German Plus - Team Arario Korea: Played in good spirit, on a perfect field and with weather conditions at the German school in Serpong.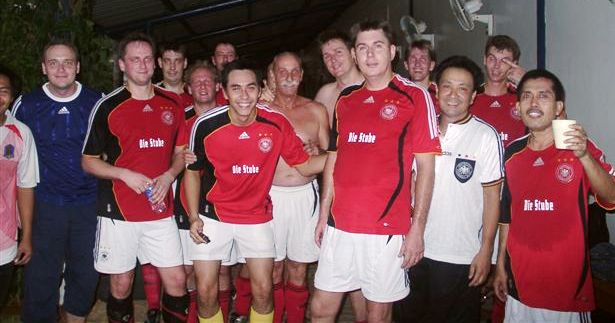 German Plus took control from the very first moment, but lost it after about 10 minutes. Ball possession was equally distributed and Team Arario took the lead after 20 minutes thanks to an unstoppable bullet. 10 minutes later German Plus hit the post, but that was all for the first half. ... more
----------------- 16 October 2007 -----------------
Photo Treasures of 1963 discovered
The early days of the German Football in Indonesia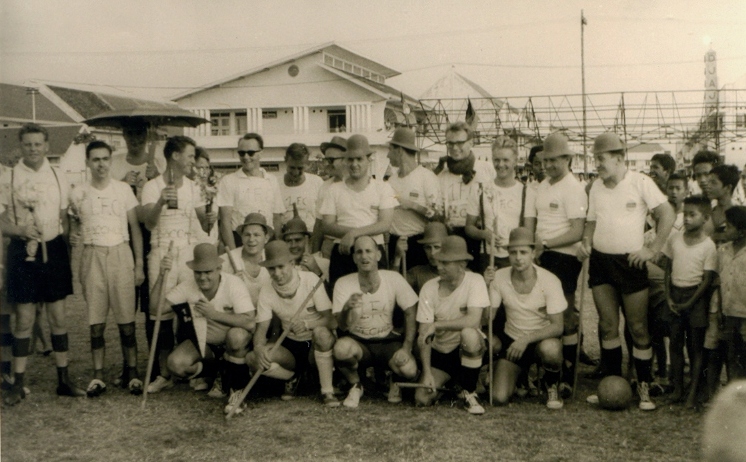 True delights for historians, friends of German Plus and GFCD Concordia: Take a little trip in time. Please feel free to provide further information on the photos (especially regarding the "story" behind the pictures) ... more
----------------- 14 October 2007 -----------------
JIFL Season 2007/2008 - Webmaster at Work
September 29: Our first win agains the Mighty Lions
September 17: A beating by the Vikings: 1:8
September 12: First game, first defeat (at JIS)
Pleasent sommer months and a golden start of autumn have kept the webmaster outside playing with his children most of the time. Although, in Berlin, the good weather days do not seem to be over yet, a call of duty by Howie:
I have not seen any statistics from you for some time. In addition, some people have complained that our website is not updated any more. Where is the problem? I hope everything is well in Berlin. Without you we are helpless.
has been right on target. So here I am, tending to the website first and than moving on to the statistic. No problem!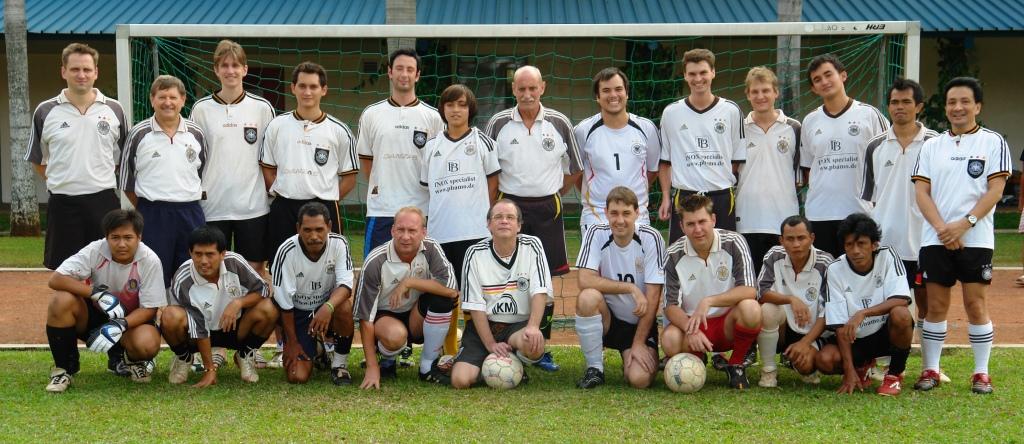 Upper row (left to right): Helmut - Karlheinz (Karli) - Moritz - Mathias - Joern - Michael - Dieter - Andre - Marcel - Stefan - Maxi - Irfan - Patrick
Lower row (left to right): Bayu - Herman - Josef - Kai - Howie - Frank - Ralph - Dudung - Ardi
The new season, again, has not been a flying start for German Plus. To loose against JIS, we have become accoustomed to. To go down to the Vikings in general and by THAT score in particular is a new experience, hopefully none to be made more often in the future. To win against the Lions used to be a normality and usually came with a high score line in our favour. So let us see what the future will be like for G+. more ...
----------------- 3 - 5 November 2006 -----------------
Visit of the Kimchi Kickers from Korea
A nice weekend with the Kimchi Kickers from Seoul!!
It started last Friday evening in Taverne where the "Kimchis" were welcomed by Kai, Frank, Bernhard and Ralph.
On Saturday then our match at the German school. I brought 92 bottles of water and 60 beers, but it was not enough because there were simply too many people and spectators around. Kai brought Kim, Natalie and Jennifer, Ralph brought Nona along and also Bernhard was there with his kids. Lennart was there, but preferred to play basketball. And of course Limping was also there to collect his monthly fee.
Last year both teams used black and white dress. So this time the "Kimchis" were very smart and brought the new red German dress along. But Dieter and Mathias were as smart as well ... more
PS: They were here before (click for the 2005 report)
----------------- 30 October 2006 -----------------
Who let the pros on the pitch?
German Plus - FC D's Place 0:4
Hi everybody, this is Harry Hirsch, reporting live from the (nice) ISCI stadium in Jakarta. I had several reasons yesterday to join the game of German Plus against D's Place. For once, I had a bet with John (owner of D's Place), which didn't materialise since he did not show up, second I wanted to see whether I know any of those guys from D's that might buy me a beer at D's one day and, third, I promised Ralph I will be there (after a couple of Jägermeisters though...). The evening started well with Mathias giving me Rp. 300.000 from Nico, so that I could buy myself a couple of beers, as well as the sight of the red jerseys we were wearing. But, to cut a long story short: Plus lost 4:0 against D's Place, a well deserved win ... more
----------------- 16 September 2006 -----------------
Another really good party
German Plus 2005 - 2006: A season close to desaster!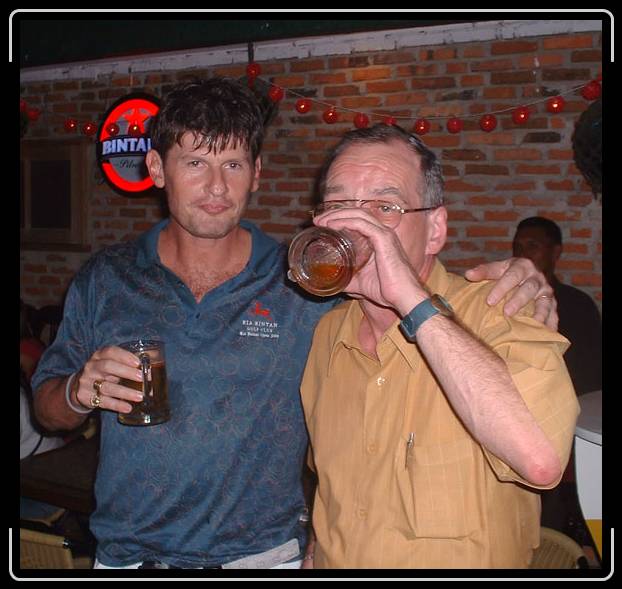 It was good by 2005-2006 and welcome back to the newest season of the JIFL - 2006-07. The party culminated and commenced a season of our football. Well, it was another really good party from the JIFL organizers and Lens from Eastern Promise did an outstanding job in preparing the evening. Everything went right if we disregard the German Plus finished in a region (9th out of 11 teams) which did not go down to well with us. Maybe that is why Howie is hiding behind a glas of beer while being embraced, consoled, cheered up ... by the VOICE of the JIFL, US boy Dale. more ...
----------------- 1 April 2006 -----------------
Dudung - 600th game for German Plus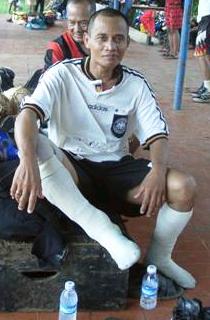 No, this is not an April's Fool joke !
Our Indonesian player Dudung (48) appeared in today's friendly game at our "Wembley Stadium" in Ciputat, South Jakarta, the 600th time for German Plus.
Statistically speaking, i. e. his name is not mentioned in earlier records, Dudung joined the team in 1990. He, himself, claimes to have played as early as 1984 for the team. Dudung, which is really his only name, hails from Jakarta and is a member of the Indonesian postal service. Being an always cheerful person, he is a reliable and faithful member of the German Plus family who never complains even if he has to sit out his time on the bench. He likes to push into our attacking lines, even if he has been assigned a job more towards the back end of the team. Nevertheless, so far he can only claim 12 goals for himself (one more reason to push even harder). If you want to know more about his views on German Plus go to the ...
... Interview with our Indonesian players (in German only).
----------------------- 10 December 2005 -----------------------
or: one rainy afternoon in Sentul *
When the day, it was the 10th of December 2005 started, it had, if you are intrigued by the Jakarta International Football League, all the ingredients of excitement. There was the smell of an ancient and eternal competition in the air. Germany was pitched against England at the foothills of the South Jakarta highlands. With a win the young German team could continue their successful run out of the bottom of the league table, the British lads until the season before were vying for 2nd place. However, the weather, as it turned from sunny breeze to rainy storm in the afternoon, cooled of the suspense – at least one would have thought so. more ...
* a hamlet some 40 km south of Jakarta
----------------------- 3 December 2005 -----------------------

German Plus - Doit Satu Lagi 5:1 (1:0)
Deutschland Rising!!!
(remarks by Dale Mulholland, League Coordintor)
Three in a row. Bags of goals and German Plus back in the running. 6-0 versus Japan. 6-3 versus FC D's Place. And 5-1 versus DOIT Satu Lagi. Wow! What a complete turnaround after a horridly disastrous start to the season and, just as I predicted in Newsletter No. 5, Deutschland would be back. And they are. With 40 years of Jakarta football history behind them, can anybody expect less of the oldest surviving member of the JIFL (and coached by the oldest man in the universe)?
3rd win in a row ... G+ vying for a place in midfield
Again a very friendly game against DO IT UNITED, unfortunately 1 yellow card, sorry. As usual a tough game against the big guys from DO IT. First half we managed to score 1 goal, a lucky shot from 25 m, which - for him - unfortunately passed the DO IT goalkeeper. ... more