Verein
Sp.
g.
u.
v.
Tore
Diff.
Punkte
1
JIS
20
18
0
2
70
:
21
49
54
2
Wanderers
20
16
3
1
72
:
27
44
51
3
Doit
20
13
3
4
66
:
30
36
42
4
Japan
20
11
1
8
54
:
44
10
34
5
Vikings
20
8
3
9
40
:
37
3
27
6
German Plus
20
7
6
7
35
:
32
3
27
7
D's Place
19
8
2
9
40
:
63
-24
26
8
Knudde
20
5
4
11
54
:
70
-16
19
9
Lions
20
2
7
11
42
:
61
-19
13
10
X'Pats
19
2
4
13
22
:
53
-31
10
11
BuGils
20
1
3
16
24
:
77
-53
6
28. Mai 2005
German Plus – FC D's Place 1 : 3 (1 : 2)
German Plus started with only 10 players but dominated the match. First big chance after 8 minutes, then after 15 minutes we finally became a full squad of 11 and immediately took the lead.
Midway through the first half D'S Place scored the equalizer and 10 minutes before the half time whistle D'S PLACE took the lead 2-1.
Two minutes before the break an ugly challenge by D'S PLACE sweeper - being the last man in front of their goal - was only awarded by a yellow card.
Our player being attacked hit back and also got a yellow card.
Half time and German Plus down to 10 men for 20 minutes.
D's Place took advantage of this and scored the 3-1 which basically sealed the loss for German Plus.
All in all a good match played in friendly atmosphere and the beer drinking competition was clearly won by German Plus.
For us the season is over, we are looking forward to the end of season party and like to thank all teams for this nice season. Special thanks go to Dale for arranging everything.
Cheers to all of you!!
Peter
… und zum Vergleich der Bericht des Gegners:
As the Germans only had 10 men at the start of the game it was agreed that both sides could play with four Indonesians on the field. The game started fairly slow, Sentul sun reducing most moves to jogging pace at best. The German number 10, (Irfan), was an early menace, very quick in the turn and with good pace to boot.
The first 20 minutes or so saw both teams make several half chances, the Germans did have 2 opportunities with only the keeper to beat but the D's keeper did well on both occasions to keep the score level.
The Germans 11th man arrived, and although they scored soon after, I have to say the Germans played just as well with 10 men as with 11. Some controversy over the German goal, the ball hit the bar, game down and eventually ended up in the D's keepers hands. D's players were adamant that the ball had not crossed the line but the linesman gave the goal immediately with no hesitation.
D's scored an equalizer about 10 minutes later, with a good run and shot from striker Joel. More controversy when D's captain, Nick, appeared to foul one of the German midfield players and was arguably the last defender. The situation was complicated a little as the German player lost his cool and appeared to strike the D's player in the face with his elbow. Both were shown yellow cards.
An opportunistic strike in the box from D's striker Joel saw D's take a 2-1 advantage into half time.
The second half ebbed and flowed, with the Germans pushing more players forward as the match wore on. Good fast breaks down the D's left hand side saw the Germans create several half chances, a couple of good shots were well saved and a free header from a corner should have been scored. D's were still making chances at the other end, midfielder Martin headed over from about 8 yards out when her really should have scored, and a mazy run from "almost past it" Patton resulted in a cut-back that was just short of midfielder Martin's boot.
D's central midfielder, Dian, effectively ended the match with a low shot that sneaked in on the Germans keeper's right hand post, not a rasping shot but very well placed. The Germans' continued to push forward but were unable to create any more clear goal scoring opportunities.
Referees were okay I guess. For me the German goal was guess work, a hard one for the officials so fair enough. The yellow cards could have been red, I guess elbows in the face and last defender warrant it, but given that the game was played in a friendly enough spirit throughout perhaps the decisions were suited to the occasion.
The beer drinking competition was actually won by D's as we continued on in Star Deli in Sentul and then D's in Blok M!!!
Alan
14. Mai 2005
25th KNUDDE SIX-A-SIDE-TOURNAMENT
Last Saturday at Sentul a very well organized tournament as usual.
Dieter said he will come later, but finally he didn't show up at all. No problem as we had more than enough players, because Saturday morning at 7:00 am suddenly not only Dony and Irfan showed up at my place, but Darius as well!
This gave us, respectively Ian, a little bit of a headache because we were allowed to nominate only 10 players for this tournament and only 9 players for each match. Consequently Darius in the beginning had to pause and hopefully will learn his lesson from this for future events.
| | | |
| --- | --- | --- |
| Players | Games played | Goals scored |
| Raoul | 6 | 4 |
| Dirk | 6 | 2 |
| Floh | 6 | 2 |
| Ian | 6 | 2 |
| Dony | 6 | |
| Gerd | 5 | |
| Irfan | 5 | |
| Yves | 5 | |
| Clemens | 3 | |
| Darius | 3 | |
| Howie | 2 | |
Our group C matches against:
| | |
| --- | --- |
| ICI PAINTS 2-0 | First match of the tournament. Thanks to Raoul we took a quick lead and Howie forced the defender to make an own goal (or somehow like that) |
| JAPAN II 2-0 | Flo hit the woodwork twice, but thanks to two goals by Dirk we won |
| FC D'S PLACE | no show |
| BUGILS 3-1 | We took a quick 2-0 lead thanks to Ian + Raoul. Then we had to concede the first goal against us, an unstoppable free-kick. However Raoul added another one after Flo hit the bar once more. |
| GRAN MELIA 1-0 | This time it was Dirk who hit the woodwork, but finally Flo scored! |
German Plus the only team of the tournament without giving away any point (!!) through to the quarter-final of the winners-round. Clemens out, because sakit sekali!!!
We met AJAX and it was the first time that German Plus was one goal behind. However thanks to Floh, Ian and Raoul we fought back and turned it to a 3-1 before conceding another goal. 3-2!!
Through to the semi-final against VILLA 2000 and Gerd should have put us ahead, but he missed and thereafter only hit the woodwork. Suddenly we were 0-1 down again, fought back, Yves hit the woodwork and then we were out - unluckily!!
Never mind, the first free beers were flowing (in total 4 free barrels).
Supporters:
Frank and Frank with daughter and wife Jenny, and Linda, the mother of Ian.
Arnold van der Veen, the organizer of these tournaments as well as my predecessor as chairman of the league received a IDR 1.000.000 voucher for his favorite restaurant as well as a trophy, handed over by Sjef de Bakker, the predecessor of Arnold.
All other trophies were handed over by the Dutch Ambassador to Indonesia and then suddenly there were two Germans on stage!!
FC MALANG, a mix of former Indonesian league and South American players headed by Ralph and Timo Scheunemann won the tournament!!!
They brought their own beers and started drinking already during the group stage, so maybe we should reconsider our future tactics!
Cheers, Howie
GERMAN PLUS is out of the cup competition!
Even after dominating the first half, nice passing and attacking, in front of the JIS goal it was over. Not really having a 100% chance to score. Second half was more balanced with total ball possession German Plus 65%.
Half time 0-0
As Uwe predicted during the break the match was decided by a lucky goal of JIS 20 minutes after the break. 5 minutes earlier Thomas of JIS had a 100% chance and should have scored.
All in all a very fair match played in good atmosphere.
GERMAN PLUS PLAYERS:
Dony, Marius, Dieter, Ardi, Herman, Ian, Dirk, Raoul, Clemens, Tobias, Frederic, Irfan, Germano, Yves, Gonzalo
MOM: German Plus: Irfan, JIS: Chris McCartey
Yellow cards: Germano Frasson (German Plus)
Referee rating: 8/10
Final score: JIS 1 - German Plus 0
6 Mai 2005
German Plus – Vikings 1 : 2 (1 : 1)
What a game! German Plus tried 80 minutes to score ... and what a result.
First half
First goal came from Ian. G+ corner kick and a nice header by Ian: 0:1 (what a goal). Second goal: a nice combination by several G+ players and a final touch by Floh 1:1.
Second half
Third goal scored by Marius, G+, which was nearly saved by Roy, but the ball slipped through his fingers.
Yes, you counted right. All 3 goals scored by G+ (unique in league history!?). Excellent goal keeping by Vikings import from Ireland: John at 2,10 m with basketball player height. However, we will definitely reserve the scoring for our next cup game against JIS.
Players:
Goalie – Roy
Back - Dieter, Herman, Germano (with a yellow card), Gonzalo, Marius, Niko, Ardi
Midfield – Rauli, Kolja, Fredi, Tobi, Yves, Moritz, Matt, Ian
Front – Irvan, Dirk, Floh, Leo, Budi
20 April 2005
German Plus – Knudde 5 : 3 (3 : 1)
Players German Plus: Roy/Dieter/Chris/Herman/Ardi/Dirk/Raoul/Tobias/Matt/ Timo/Colya/Clemens/Yves/Darius/Irfan/Dony
Played earlier this evening in Kuningan/Pasar Festival on a very good pitch in a very friendly and fair manner, no cards and only very few free kicks.
German Plus took the initiative from the very start and dominated basically the entire first half. After ten minutes very unlucky when our striker Colya only hit the crossbar.
However, Knudde took one of their rare counter attacks and scored the first goal after about 20 minutes.
German Plus struck back 15 minutes later with the equalizer by Dirk, and scored two more goals by Timo and Colya.
Half time 3-1 German Plus
Thereafter German Plus made some tactical wrong replacements and all of a sudden Knudde was back into the match. 15 minutes into the second half and 10 minutes later they scored and it was 3-3, also due to somehow weak defending by German Plus.
Finally German Plus fought back and was awarded with two goals 10 and 5 minutes before the final whistle. All in all I think a deserved victory for German Plus and thanks to Knudde for this very fair match!!
16 April 2005
German Plus – Wanderers 2 : 2 (1 : 1)
2:2: Not a bad result against the 2nd in the league. 10 minutes into the game dale blasts the ball from 20 m distance directly towards goalie Roy. The ball slips through his hands (how lucky for the Wanderers).
Thanks to our strong midfield, Timo and Roul, power play by German plus. Since Wanderers system is already known, ball from the back and all the Wanderers player are crying Timiiiii. 10 minutes before end of the first half G+ midfield and striker in front of Wanderers goal trying to put the ball into the net, finally Matt managed it. A well deserved 1:1 before half time.
Maxi had 2 chances in the first half, not so lucky as against the Lions.
Start of 2nd half: Dirk pulled a muscle and had to stop, replaced by Gonzalo, who crowned the start of the 2nd half with a second goal for German Plus.
10 minutes later Wanderers azuri import with a film production and penalty against G+.
Wanderers with a narrow escape from loosing the game, even having a former world cup player in their team.
G+ on the right track to win the cup.
Players: Roy, Dieter, Chris, Marius - midfield - Timo - Roul - Tobi - Gonzalo - Clemens - Herman - Marko - Yves - front - Dirk - Kolja - Maxi - Irvan
9 April 2005
German Plus – Japan 2 : 2 (1 : 1)
Lions - not the old team we used to play. This time they were reinforced by some Indonesian and African lions; from the former team approximately 4 real lions - a tough team to play.
G+ cup team with some new faces: Maexi in front scored 2 goals and
Tobias is the new workhorse, both from the German school. Another surprise was the sudden visit from Budi who played the second half with great spirit and no loss of his former skill. Raulito played in the center midfield (Glenn's position) together with Ian (yellow card). This worked very well.
Left midfield - Yves, Darius, right midfield – Tobias, center midfield (defensive) – Herman, in the back - Ardi and Germano (yellow card after playing 2 minutes), right back – Marius, full back – dieter, striker – Dirk, Leo, Floh, Maexi, goalie - roy.
German Plus: 1:0. After confusion because of Germano's yellow card the new African lion scored the equalizer. German + again went into the lead and 10 minutes before the end of the game had to concede another goal. All in all a fair result.
2 April 2005
German Plus – Japan 2 : 4 (1 : 1)
Dieter berichtet:
Even though we lost the game, there was a real winner after the game. German food at Howie's place: Curry Wurst and German beer. We again said bye-bye to Felix who tried very hard to score, but having to work during the day and last weekend (night-life with half of the soccer team) we divided the team into 2 halves: 30 % the defense in the first half and 70 % midfield and front in the other half. Midfield action only in the first half of the game which ended 1:1 after a stupid goal; I forgot who was involved.
There will be some more new players entering the German team: Moritz and Tobi who unfortunately could not make it. Our new striker Raoulito (5 month in Jakarta) will hopefully be a part of our 2005 cup winner's team.
Kolja will have some well deserved rest after Felix has left Jakarta and will score the next goals for German Plus to win the cup. Ralf promised to work on his 2 month pregnancy, Fredi and Kolja promised to shoot some goals. Ian, still very busy with the new lady in the house, will be also ready to fight for the cup.
Players:
Roy goalie
Back: Dieter, Ardi, Marius, Chris
Midfield: Clemens, Germano, Ian, Kolja, Herman, Yves, Fredi, Ralf
Front: Floh, Irvan, Raoulito, Felix
Our next game and first win with the 2005 cup winner team will be advised.
Tschüss Dieter
... und der Bericht an die Liga von Howie:
Japan took a quick lead, however, German Plus was able to equalize. Half time one all.
About 10 minutes into the second half German Plus was disallowed a correctly scored goal due to offside. This obviously was the turning point of the match. Japan quickly passed through the midfield and scored two goals within short time.
German Plus had another goal disallowed and due to our weak defense conceded one more goal. Goal of the day came from Frederic, but it was too little, too late. German Plus this season once more no contender for the champions league, but also not in danger of being relegated.
23 March 2005
German Plus – Jakarta XPats 1 : 1 (1 : 0)
Kolja, mindestens 4 x daneben, Fredi, dann auch mit Gewalt, 3-mal daneben, Tussi, 3-mal kein Glück, Clemens, 2 x mal in die Wolken, Yves, mindestens 1 x usw., usw. German Plus hat halt im Augenblick Kacke an den Stiefeln.
Auch das Tor von irvan ein Zufallstor für German Plus, genau so ein Zufall wie das Gegentor 2 Minuten vor Schluss. Ein Ball, den der nicht geprüfte Roy nur mit seinen Augen verfolgte, anstatt ihn zu fangen oder wegzufausten. Das Gegentor wurde dann auch von einem Bewegungsspastiker geschossen.
Super war allerdings der Star Deli Abschluss, da haben wir dann richtig zugeschlagen und keine Gegentreffer mehr kassiert.
Spieler: Roy - Dieter - Chris - Herman - Ardi - Germano - Gonzalo - Irvan - Yves - Kolja - Clemens - Fredi - Ian – und als neue sturmspitze haben wir für 5 Monate probeweise verpflichtet - Raulito (aus Brasilien, wie der Name schon sagt).
23 February 2005
German Plus – BuGils 2 : 0 (2 : 0)
Hier erst der Bericht an die Liga von Howie ...
This was the second leg league match as well as the first round cup match.
Final score: BUGILS - GERMAN PLUS 0-2
GP goal scorer: Felix Nitzschke 2
GP man of the match: Dirk Stadler
BUGILS man of the match: Indonesian goalkeeper
No cards
Referee team: 7/10
Report:
After playing 10 minutes in the dark the match was stopped and after some negotiations finally the flood lights were also working. First half a very one-sided affair, traffic only in direction of BUGILS goal. However German only able to convert two of their numerous chances.
Second half basically same like the first one. Endless chances for German Plus, none for BUGILS. An incorrect goal by German Plus was not given, our player admitted to have used his hands and the referee took back the yellow card upon intervention of the BUGILS team.
Very sportsmanlike and a very fair match in total.
... und dann noch ein paar weitere Details von Dieter:
Nachdem es Nacht wurde im Pertamina-Stadion musste überlegt werden, ob nun bei Kerzenlicht oder Flutlicht weitergespielt werden sollte.
Wie man den Schalter findet ist, nicht eine Frage der Lage, sondern eine Frage der Indo-Dollar. Und siehe da, es wurde Licht.
Mit 2:0 konnten wir unser 1stes Cup-Spiel sicher nach Ciputat fahren, dazu noch 3 Punkte im Ligavergleich.
2 Tore von Felix konnten schon in der ersten Hälfte den sieg klarstellen. Dann waren da noch, wie üblich, unsere 100 % igen Chancen: Pfosten, Torwart angepiekt, daneben usw.
In dieser Saison sollten wir den Cup für nicht ausgenutzte Chancen bekommen.
Spieler
Tor - Roy (zuerst Andre)
Hinten - Dieter - Marius - Germano – Leo
Mitte - Kolja - Ilia - Andre - Gonzalo - Yves - Malte – Herman
Vorn - Ralf - Felix - Floh - Irvan
23 February 2005
German Plus – JIS 0 : 2 (0 : 0)
Both sides could have scored but thanks to good defense the first half ended 0:0. In the second half after 20 minutes a lucky shoot from JIS could not be stopped by Roy 0:1. 10 minutes later a foul by Kolja, which did result in a penalty - 0:2. Tussi also was fouled by the goalkeeper, but no penalty. G+ played very well - however the last 10 minutes there was not much G+ fuel left in the tank. According to JIS a draw would have been also a fair result.
Players:
Goalie – Roy
Back - Dieter - Germano - Ardi ( man of the match )
Midfield - Marius - Dirk - Clemens - Kolja - Fredi - Herman - Yves - Andre – Ralf
Front - Tussi - Felix
Next game on Sunday against BuGils - the game will count as a league and cup match - we have to win!!
19 February 2005
German Plus – Doit Satu Lagi 1 : 3 (1 : 1)
Hallo Plusler - we didn't t do it!
Our "Abi"-boys celebrated their examination until very early in the morning - so there was a heavy Friday burden on their shoulder - to be carried into the game.
With a 1 : 3 (halftime 1 : 1) we unfortunately could not keep up our wining streak.
Goalie and man of the match Roy
Back: Dieter, tried his best - Germano with great spirit - Marius, Friday handicap - Herman, just played 5 minutes - Ardi, afraid about the big English guys
Midfield: Chris, gave his best was unfortunately suddenly disappointed - Fredi, tried to score but no luck - Matt, for me man of the match, had a beautiful header - Ian, in view of the soon to arrive new member of the family had his mind, as you can understand only 10% with G+ and 90 % with his wife - Yves, Friday handicap - Dirk, "Abi" handicap - Felix, heavy Friday handicap - Kolja, heavy Friday handicap - Gerd, came too late, would have rescued G+?
29 January 2005
German Plus – FC D's Place 4 : 0 (3 : 0)
Hallo Plusler!
On Saturday we managed to win our first league game in 2005 - 3 points (Anm. der Red.: In der Tat war es bereits der zweite Sieg im neuen Jahr - nach dem 2:0-Erfolg gegen BuGils am 8.1.2005).
Despite terrible rain before the game 18 player did show up in Sentul to support our first league game this year. Some new faces, all the way from Manchester - Mat (midfielder) - and from Barcelona Gonzalo (left back). We also did welcome Clemens (also a midfielder).
The other players: Our Indonesians: Ardi - Herman - Irvan - and goalie Roy
Goal : Roy
In the back: Dieter - Marius - Ardi - Gonzalo
Midfield: Ian - Dirk - Mat - Herman - Chris - Germano - Gerd - Clemens - Yves
Front: Felix - Tussi - Irvan - Kolja
Kick-off at 4 o clock
Scorers: Kolja - Germano - Fredi - Felix
Missing players: Glenn, injured - Frank, injured - Ralf, angry (we missed you)
There were several players asking for Howie to enter the arena. But Howie felt sorry about D's because he definitely would have scored another goal.
Hallo Frank - thanks for your words - who managed the players during the game. Some concerns from Franki. If you ask me, we had a great win and a great game and all players did play, except one. 4 : 0 we are all happy - we got 3 points.
Goalie was Roy: Great game
In the back : Dieter - Ardi - Marius (who according to me was man of the match holding Niko for 2 x 40 minutes) - Gonzalo (not bad play for the first time)
Midfield: Dirk (played a good defending game) - Frederic (1 goal, could have been more) - Chris (solid) - Ian (not as focused as usual, since there will be a baby very soon) - Gerd (no mistake) - Herman (very busy first half, because of the 3 dis strikers) - Clemens (also a solid game) - Germano (1 goal, worked very hard) - Felix (1 outstanding goal) - Mat (very good midfielder, will make German plus even stronger) - Yves (good game but some Friday syndromes)
In front: tussi (unlucky could have done at least one goal) - Kolja (1 pass, 1 goal, could have also scored more) - Irvan (very helpful, if one of our striker needs a rest, good game)
Frank you counted right 18 players and all played (also thanks to you). After the game we had Nuernberger sausages, Howie and you unfortunately left (what a pity). I am sure that all players did enjoy the game.
Responsible for the team should be one of the player who is playing every week. If one player is joining G + every week (like Gerd), he should have the right to play too. I think there is no dispute, if, as Frank has done, a player assisting the team changes some players during the game. It can be seen from the result, good job but don't make a big deal out of it. Just do it.
8 January 2005
German Plus – BuGils 2 : 0 (1 : 0)
Men of the match: German Plus - Oliver Adria
Bugils: Indonesian midfielder Udin
Cards: None
As the referee team was not available, a local referee was hired and paid by German Plus. They did a good job
Match report:
An almost complete German Plus squad against just 11 BuGils players. German Plus took the initiative just from the starting whistle and was rewarded midway through the first half by a fine header by Leo. BuGils always fighting through the second half, but just when they were dangerous and about to score a fine taken free kick by Oliver sealed the victory. Thanks to BuGils for a fair match.
4 December 2004
German Plus – DoIt (Satu Lagi) 0 : 0
First half there was only one team playing and not scoring goals - German Plus - I believe one of our best first half in our league games.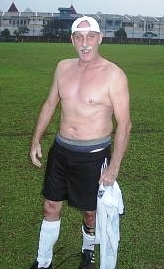 Outstanding defender Marius, who controlled the DoIt striker over 80 minutes - also fabulous midfield with Glenn, who unfortunately was injured after a DoIt player jumped from the back into his leg, hopefully nothing serious, because one player we really would miss is Glenn in the midfield. Ian, Timo, Ardi, Ralf and Josef created power play soccer towards the DoIt goal, however wood work twice and a one-on-one situation with the goalkeeper did not bring the deserved winning goal. Even in the second half, when Ralf passed to our defender Germano, the distance of 5 m was far enough to shoot the ball over the goal .
Second half, as usual a little bid slower and both teams defending well, Christian, Dieter, Germano, Mario and goalie Roy kept the goal clean .
Floh and Yves, 2nd half substitution could not bring the extra push .
Yesterday's coach was frank and with a bid more luck, he would have won. Good job Frank, who can not play for the next sixth months
Howie and Frank (German school ) were both ready to play - good support.
After the game we all met at Star Deli. Bintang beer, pizza and billiard were the right medicine to close a beautiful soccer day .
24 November 2004
German Plus – Vikings 1 : 2 (0 : 0)
German plus - without our midfield engine Glenn who is celebrating his birthday (congratulations) without us in Australia, we could not manage to beat the new Vikings team, who had some outstanding player. After 3 minutes into the game the wood was the 12th player for the Vikings.
Both teams were pressing to shoot some goals in the first half but the defenses didn't allow this.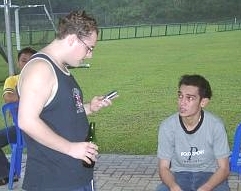 Dieter designed two front rows, which should play each 20 minutes. The first row with Dirk and Kolja, the second with Tussi who scored an outstanding header for German Plus in the second half. That gave G+ the lead, and Frank, unfortunately twisted his knee having come onto the pitch just 5 minutes earlier. So – Dieter's system did not work out.
In the midfield we had Freddie (hard working and good game but sometimes too much in love with the ball), Ian as usual one of our midfield engines, Christian, first half he played very well, second half, he had the Gerd syndrome, Marius, first half not the same spirit as usual, but second half very good and nearly scoring a goal, Germano played for Christian and played a solid game, Yves, replaced Marius and brought fresh wind into the game, Chris, no mistakes, left the field 8 minutes before the end of the game which was a pity because during the final 8 minutes we lost the game, Niko, replaced Chris, will get more experience by playing more often, Jonas, came on also during the final 8 minutes but did not find his game, Herman, Ardi, Josef and Dieter in the back could not stop the Vikings power player with his 2nd goal, even though the Vikings had to play with only 10 man and - 4 minutes before the end – were reduced to 9 because of a 2nd red card .
In general - it was not our day but I think we all had fun.
11 November 2004
German Plus – Mighty Lions 3 : 2 (2 : 1)
Three point against the Mighty Lions at Wimbledon Ciputat, with red flags and white lines.
First goal by Ian, second by Smoky (Frank), the next one received, because of Smoky. Half time. Third goal by the flying rabbit Tussi, second goal received because of the fast Chris (German Embassy). Man of the Match: Ian or maybe it was Glenn?
Players: Roy - Dieter - Chris (German Embassy) - Chris (DHL) - Josef - Ian - Jonas (his first game) - dirk (pot) - Frank -Frederic - engine Glenn - Tussi – Ralf (great game with at least two 100 % chances).
29 October 2004
German Plus – Knudde 2 : 0 (1 : 0)
Our first clean three points are in the box. Starting as strong as last Monday against the Wanderers, it looked like an easy game for German Plus. After just 10 minutes in the game Tussi crashed the ball into the net. Shortly after that another goal, but the referee thought it was out of an offside position. Thereafter we hit the post 3 times.
Understandably, some of our players became a little frustrated with so much bad luck and at half time there was some opera going on among some of the German+ players. Glenn found the right words to calm us down again and with some fresh legs we started the 2nd half.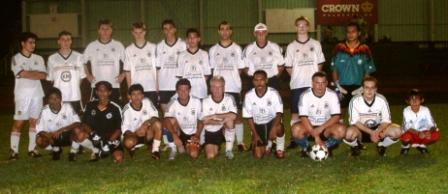 Another offside goal by Darius, which actual was a back pass, was also not given. After 30 minutes of not much action Ralf came on again with the right spirit , to shoot the 2nd well deserved goal for German+.
Players: Doni - goalie - clean sheet, Dieter - was knocked down twice, but managed to go on, Chris - German Embassy - with a solid game, maybe his best so far (looking at his temper, there must be some relatives from the southern Europe), Niko - not his lucky day, but managed to stay clean,
Josef - sometimes too much confidence, Marius - his girlfriend watched the game - did not come on in the second half (lets watch the game together), Dirk - as usual fighting spirit, no yellow card, Ian - late because of special attention to his wife (there is a boy or girl on the way), Glenn - the G+ engine - was happy with the result, Tussi - as usual the German + turbo charger was unlucky with no of goals, Frederic - was looking for his first goal this season, but must wait for the next game against the Lions, Yves - came on in the 2nd half and is playing stronger and stronger, Darius - came on as a striker and was unlucky with his offside goal, Ardi -came on the last minutes of the game and gave German Plus the necessary breath to shoot the 2nd goal, Germano - our new player had a very good start for German Plus and we welcome him in our team.
25 October 2004
German Plus – Wanderers 2 : 2 (2 : 2)
First goal Wanderers, 0:1, second goal a fire cracker from Kolja, 1:1, next goal Frederic, 2:1, final goal Wanderers, 2:2, all in the first half.
Two more chances by Simon alone against the goalie, both times unlucky. The Wanderers had a lucky escape.It would have been the first loss after nearly 1,5 years. Big team spirit, as you can see from the picture, there are so many players, however not all could play, but did support G+.



Players: Doni - was partly responsible for the second goal, but on the other hand made some great saves, Dieter - how about the first goal? - against us, tried his best, Frank - could not stop the Indonesian player of the Wanderers to score the first goal - at the end of the game blocked a free kick and suddenly out off all his holes cigarette smoke disappeared and filled the air, Marius - could not stop the same Indonesian player to score the 2nd goal – who is the only player of the Wanderers, who is scoring the goals, Dirk - German School - as usual gave his very best, Niko - German school - good defending, his first league game, Chris - German embassy - his first league game - tried his English vocabulary with some Wanderers players - did he understand all the words?, Glenn - as usual the engine of G+ - tried after the game Star Deli - but was closed?, Timo - outstanding first half, and a slower 2nd half - also a great game – thanks Timo to take a day off from school to play with G+, would be nice if you could always play our league games, Ralf - played the last 7 minutes and did assist Glenn to organize all our other players, Simon - great spirit, but unlucky - could have scored at least 2 goals. Kolja - man of the match, fighting spirit and the goal of the year, Josef - also his first league game for G+ - good game - no mistakes, Tussi - yellow card but as usual one of the fastest players on the pitch - could not score this time - even with big support from his family, Frederic - our tennis pro - could make it from Kalimantan to support our game, Ian - the bush supporter or not?, 80 minutes full power.
Yves, Leo, Floh, Max, Darius, Herman, Ardi - thanks for your support and the team spirit, even though you did not play against the Wanderers.
2 October 2004
German Plus – Japan 2 : 2 (0 : 2)
Unbelievable but true. A league game with 2:0 down 5 minutes before the end of the game and German Plus with only 10 man.
A free-kick by our import from Malang, Timo Scheunemann, reduced the score to 1:2. Two minutes before the final whistle Tussi grabbed the ball and passed all Japanese kamikaze to make it 2:2. What a finish.
After the game a well deserved dinner (curry wurst) and German beer at Howie's place, the right award for all players.
Players: Ian - replaced our goal keeper Doni and did an outstanding job, Frank in the back (unhappy at this position), Maxi, his first league game, well done Max, Niko - did his job also very well, Dieter - had to run a little bid more after Chris left the pitch, Chris - solid as usual but late to start the game, Scheunemann Ralf and Scheunemann Timo - both did their best to support the team and Timo scored the beautiful free kick just 5 minutes before the end of the game, Frederic - with 2 big chances had no luck, Floh and Yves - good job, Kolja - recovery problems from Friday night? - no turbo charger effect, Gerd - should play in the middle to pass the balls to our fast strikers, Dirk - still problems with his injury, could not play the whole game, and came only to the 2nd half, Glenn - the German plus engine great game with huge spirit, Tussi - still our fastest player up front responsible for the point for German Plus.