Team
W
D
L
Goals
Points
1
Wanderers
15
1
2
62
:
18
46
2
JIS
12
4
3
56
:
17
40
3

Lions

10

2

7

42

34

32

4
Do It
8
3
6
42
:
31
27
5
Knudde
8
2
6
41
:
36
26
6
Japan
9
4
8
37
:
47
25
7
D's Place
6
6
5
38
:
29
24
8
Vikings
4
5
7
21
:
29
17
9
German Plus
5
0
13
37
:
45
15
10
BuGils
4
2
13
29
:
63
14
11
Jakarta Xpats
2
1
12
11
:
66
7
Another really good party
The JIFL End of the Season Event, 16 September 2006
Eastern Promice, Kemang, Jakarta, Indonesia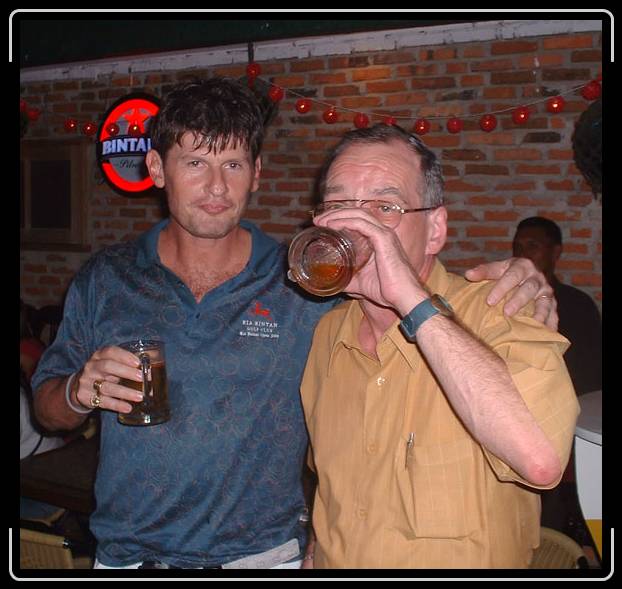 It was good by 2005-2006 and welcome back to the newest season of the JIFL - 2006-07. The party culminated and commenced a season of our football. Well, it was another really good party from the JIFL organizers and Lens from Eastern Promise did an outstanding job in preparing the evening. Everything went right if we disregard the German Plus finished in a region (9th out of 11 teams) which did not go down to well with us. Maybe that is why Howie is hiding behind a glas of beer while being embraced, consoled, cheered up ... by the VOICE of the JIFL, US boy Dale.
6 May 2006
German Plus – Lions 1:2 (0:1)
Unfortunately, yet another defeat!
I was surprised that we had so many spectators, there were Mattia with girl friend, his brother Elia, Florence (girl friend of Marius), the father of Darius, Jenny, Christian and another guy from Daimler-Chrysler, Axel from the Vikings and many, many other people. Only later I realized that they not really came to see us playing, but because of the theatre which started at 5 pm and they were just a little bit early.
Michael and father Dieter, Adhi and myself were there as well.
Lions took the lead after just 10 minutes with an unstoppable rocket. We were unlucky when Salomon hit the crossbar after about 30 minutes. Half time 0-1.
After a mistake from Maxi the Lions took advantage of this and just another unstoppable rocket went into our net. The consolidation goal of Marius 15 minutes from the end was too little too late.
29 April 2006
German Plus – Team Japan 0:1 (:1)
Our league match yesterday in Sentul had nothing to do with soccer, but more with water sports. It started to rain cats and dogs already before the match and due to a heavy thunderstorm we could start the match only with a delay of 45 minutes.
It continued raining the whole match and at the final whistle of Mr. Sakai the players' boots were not visible any more, because they were under water. The whole Sentul sports club looked like Lake Toba and we were caught there until 8pm due to the continuous rain.
Luckily Dieter was kind enough to provide 200 barbeque sausages, of which we finished 194. Howie brought enough beer.
Back to the match: the only goal came after just 5 minutes. A pass back to the goalkeeper got stuck in the water on the pitch, a loop over the goalkeeper and the ball was in the net. Thereafter shooting and passing was basically not possible any longer.
Unfortunately the goal was scored by the Japanese Team.
Comment by the Japanese captain:
It was a game in very severe rain. It was not the condition that a normal game could be done.
Response by Dieter:
German Plus team eager to play, after the long trip to Sentul, even considering the condition of the pitch, at kick off the field was 50 % flooded with rain at the end 100 flooded, the spectator stand between both fields became an island.
A special thanks to the Japanese team, who actual did not want to play but after all German Plus player were on the field agreed to proceed with the game.
22 April 2006
German Plus – Wanderers 1:3 (1:1)
Again one off sides goal for Dale's team (3 players off side)
The first half was even and the second half with more advantages for the Wanderers: a deserved win.
19 April 2006
German Plus – JIS 1:4 (1:1)
Howie's report:
German Plus scored the first goal, but much to the surprise of everybody it was disallowed by the referee. Ian got injured and we lost the back bone of our defense. JIS then took the lead after 15 minutes, but Ivan took advantage of poor defending and made it 1-1 before the break.
Second half was more or less balanced, but JIS were the luckier team and scored three more goals.
Match report by JIS:
Close first half ended with a 1-1 score line. JIS took the lead after a nice finish from following a neat cross. German Plus deservedly tied the game after half hour taking advantage of a bad mistake in the JIS defense.
Both teams hit the woodwork in the 2nd half, before JIS scored a second goal sliding the ball home from close range. Match was decided after JIS got a 3rd, with the JIS player beating the last German defender and chipping the goal keeper. In the dying minutes JIS even managed to get a 4th goal by heading in a corner.
17 March 2006
German Plus – Knudde 2:3 (1:3)
A very good game by both sides. At the end of the game a little bid shouting, but was is the soup without salt.
First goal a pass from the right side towards the goal by a very good Indonesian Knudde player (No. 4, also man of the match). Unfortunately for G + and lucky for Knudde the ball landed in the net. 10 minutes later Knudde scored again (No. 4 again). After reorganizing the defence, German Plus started to attack which paid off in the 25. minute, however, who scored is still unclear, because the ball landed on someone's head and found the way into the goal. G + was happy to reduce the score, but not for very long. 2 minutes later No 4 scored again.
Second half saw G + trying very hard to score which was finally successful after 25 minutes into the second half. Also this time the scorer is not clear, a similar situation like in the first half for German plus. Several chances by both sides could not materialize in another goal. Final score 3:2 for Knudde - congratulations.
German + players:
Goalie: Mulyono
Defence: Mathias Cremer, Ian, Herman, Agung, Marius
Midfield: Irfan, Thomas, Andre, Elia, Darius, Max Cremer
Front: Max Damme, Tobi, Manuel
12 March 2006
German Plus – Lions 1:2 (1:0)
Official match report by Ian
The first half of play began with both teams sharing possession and each mounting a few mediocre attempts at goal. Eventually, German + took advantage of a miscue in the Lions defense and scored first. German + took this lead to the half. The Lions were rejuvenated in the second half with some fresh players and began to dominate play. German + made a strong defensive stance and held off several well constructed attacks by the Lions. A serious error in judgment by the German + last man to leave the ball for the keeper rather than make a simple heading clear allowed the Lions quick footed striker to equalize.
The Lions continued to pressure the Germans defense while the Germans in turn organized a few counter attacks towards the Lions end. With about 15 minutes left the German defense broke down again when they marked poorly on a Lions corner kick. After an initial brilliant save by the German keeper, the reflected ball was easily headed into the back of the net by an unmarked player.
Overall a fair game with no unpleasant incidents to report. A deserved win by the Lions.
6 March 2006
German Plus – Vikings 2:0 (1:0)
JIFL Cup Competition – First Round Group Match
Match report by Dieter
What a nice game against one of the founding members of the league, especially after the game. All Vikings, mostly Scandinavian, and G+, mostly Germans, enjoyed the Carlsberg respectively the Bintang until nearly midnight. The result should have been a draw, however G+, a little bit more lucky, managed to score a goal in each half (both by Leo) . Vikings pushing very hard in the 2nd half to equalize, even being alone in front of the G+ goalkeeper, could not find the net.
Comment by 'Howie'
Cup is then now most probably also over for us.
20 February 2006
German Plus - D's Place 1:3 (1:3)
Match report by D's Place:
"The German squad showed up with dozens of fresh and young players while the old D's warriors hardly gathered 12 players. Some 15 minutes after the first half started the Germans scored what would be their only goal in the evening. Even missing its famous and tough defence line, D's managed to lock the door to the several quick attacks lead by the G+. With a nice shot straight in the box, Gaston from D's brought back the score to 1-1 before Nicolas scored another one after a quick escape on through the G+ defence. Score at half time : 2-1 for D's Place. The second half clearly showed that there were no room available for The G+ to find anyway way to score. The huge audience brought there by special train from all around the archipelago was voiceless when Joel from D's scored the third goal of the evening. Nice game overall and a pretty friendly atmosphere.
5 February 2006
German Plus - BuGils 7:0 (2:0)
A very friendly game at Simpruk against bottom of the tableBuGils.
Comfortable temperature and a little bit of rain suited both teams after the usual long Saturday night. BuGils played very offensive which created several chances of counterattacks for German Plus. The result: 2 goals for German Plus in the first half. BuGils, very unlucky in the first half, should have scored at least 2 goals.
Second half basically a copy of the first half: BuGils created even more chances but it was German Plus which scored another 5 goals.
Players:
Irfan - Herman - Agung (Ardi was also there, but didn't play) Darius - Ian - Mattia - Elia - Marco (in goal) - Marius - Salomon - Howie
New: Uwe Dalichow - Christian Lohmann - Elario Royas
Spectators/supporters:
Frank K. with his wife Malu - coach Dieter - Elizabeth + Sarah, wife and daughter of Christian - Ralph and Nona It was 2-0 at half time and then German Plus shifted the gear and increased the pace. In the end it was 7:0.
Man of the Match: Elario
Scorers: Irfan 3 - Elario 2 - Darius - Salomon
21 January 2006
German Plus - Doit Satu Lagi 0:4 (0:2)
Having closed the year 2005 with the fabulous win over DoIt, the new year brought the team back to reality. On the narrow pitch of the German International School at Serpong the team succombed to the obviously more spirited British boys (or was it just the kick-and-rush-tactics). Players: Ardi, Dieter, Herman, Mulyono, Jens, Irfan, Darius, Nico, Alex, Andre, Elia, Harry, Leonardo, Salomon, Tobias, Ian, Max D., Marco
Remarks by the Editor: My first thought, which lingers on in my mind, was: What in earth's name made G+ choose this pitch as their home ground. Even with 9 players on each side it is already crowded. I doubt it even has the minimum size of a football field as per FIFA rules (which already allow for narrow pitches). Apart from that we know by now that a field like that plays into the hands of our opponents as we cannot develop our game which relies on a roomy passing game making the opponents go long ways if they want to have the ball. So: Rethink!
3. Dezember 2005
German Plus - Doit Satu Lagi 5:1 (1:0)
Deutschland Rising!!! (remarks by Dale Mulholland, League Coordintor)
Three in a row. Bags of goals and German Plus back in the running. 6-0 versus Japan. 6-3 versus FC D's Place. And 5-1 versus DOIT Satu Lagi. Wow! What a complete turnaround after a horridly disastrous start to the season and, just as I predicted in Newsletter No. 5, Deutschland would be back. And they are. With 40 years of Jakarta football history behind them, can anybody expect less of the oldest surviving member of the JIFL (and coached by the oldest man in the universe)?
Official match report by Dieter
Again a very friendly game against DO IT UNITED, unfortunately 1 yellow card, sorry. As usual a tough game against the big guys from DO IT. First half we managed to score 1 goal, a lucky shot from 25 m, which - for him - unfortunately passed the DO IT goalkeeper.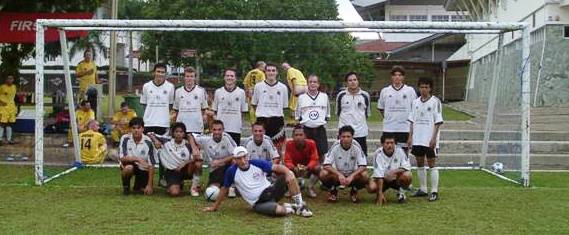 The game was quite even and DO IT have several chances to equalize before half time. After the break G+ changed gear and was able to score 4 more goals. A corner kick resulted in the very much deserved goal for DO IT.
The president of the international league Howie entered the action in the dying minutes of the game and because of the very limited time could not change the final result.
Players
Goalkeeper: Mulyono
Defence: Iron Ian, Thomas, Ingo (youngest player in the league), Ardi, Andre (nearly clean sheet)
Midfield: the twins Markus and Mathias (1 goal), Salomon (2 goals), Darius (1 goal), Alexander (solid)
Strikers: Irfan, Tobias, Leo (1 goal), Howie (created a lot of chances)
... und weiteres von Howie:
G+ played yesterday at BIS in Bintaro under perfect weather conditions with a nice cooling breeze all the time. German Plus hasn't won against DO IT for quite some time and were hoping that this might change. Both teams showed up with a squad of 16 players each and were both claiming some missing key players.
It started good for German Plus: after about 10 minutes we took the lead after some fine passing between Darius and Salomon, who then rocketed the ball into the left corner of the DO IT goal. The rest of the first half was a lot of midfield play with only very few shots on goal. Half time: 0-1.
The second half became much more exciting. Again after 10 minutes German Plus scored another one, thanks to an unstoppable bullet of Mathias Wanner. Shortly after that it should have been 3-0 for GP, but Irfan not only lifted the ball over Erwin, the DO IT keeper, but over the bar as well. Instead of being up 3-0 in return DO IT made it 1-2 with a nice header. This looked like being the turning point of the match for a short while as DO IT suddenly were the stronger team with more possession.
However this lasted only for 5 minutes, then Salomon hit the post and Darius converted the rebound to make it 1-3. Another 7,5 minutes later it was Salomon himself again and it was 1-4 for German Plus. DO IT's resistance was broken and Leo made it 1-5 for German Plus in the dying minutes. Final score: DO IT vs German Plus 1-5.
… and the view of the DO IT team manager:

German Youth strike deep into DoIt Territory

As always the playing conditions were perfect out at the Bintaro stadium, with the playing surface looking immaculate. DoIt collected a strong squad of players for this tough fixture, but were even more surprised to see a dramatically different line up from German Plus. The old timers have done, what maybe some of the DOIT players should do, and have hung up their playing boots. Dieter and Peter both spending less than two minutes on the field but carefully nurturing their youth squad in preparation for the final offensive!
One comment though if preparing for battle you should equip your men properly, more than 5 German Plus players started the game without shin guards, then complained when hurt in a challenge!
DoIt welcomed the return of several veterans to the playing fold, namely Mike, Denis, Tim and especially John (just turned 53). The game started very evenly with DoIt having a lot of the possession in the first 25 - 20 minutes. Sheardy was given a hospital ball early on in the game which helped his dodgy knee no end and had to come off after about 10 minutes. The eager subs bench we fighting to get on in his place. Withey cricked his neck early on and had to have a massage at the side of the pitch. This would have been fine apart from the happy ending disturbing the play a little. On come COOPERMAN to replace Withey and he and Fandi terrorised the German plus defence.

Doit failed to make the pressure pay and on 20 minutes the German plus team broke and scored with a rifle shot into the top of the net. The two teams battled it out until half time with no one really taking a hold of the last 15 minutes of the first half, with the only play of note being a fantastic save by Erwin of a strike into the top left hand corner of the goal.

Onto the second half which started late as one of the German Plus players was in the toilet, even though they had 5 on the bench (boy he must be good)! The game picked up tempo a little both in the footballing sense and in the tackling, with many minutes spent attending to German Plus players who were writhing around on the deck after challenges (which the ref did not see fit to punish because they were perfectly legitimate) Whibley coined the phrase China Germans as they appeared to be very fragile and easily damaged.
Both teams were having to work hard for possession and the German Plus team scored a soft goal from a defensive viewpoint. The ball broke to a player on the edge of the box, it bounced twice without a DOIT challenge being forthcoming and he coolly volleyed it into the top corner.

This was what it took to spur DOIT into action and player manager Mick made an appearance on the right midfield. This paid dividends (unlike the Co-Op) when from a corner Fabrizio rifled home a header from the edge of the six yard box. His celebration gave away how long it had been since he had scored and even at the end of the game (having lost 5-1) he had almost the biggest smile of any of the DoIt players.

DoIt were energised from the goal and continued to press, with a feeling of anticipation that we could go on and take the points. Only to have our hearts broken 5 minute later when German Plus sprung the offside trap and the player ran through one on one with Erwin. He hit the post and the ball broke to a second Garman Plus player who taped it home while our back four watched from the half way line!
It was then that tactical genius unfolded from the DOIT team who decided to drop down to 3 at the back in an attempt to salvage the game. This resulted in us leaking a further two goals which resulted in a flattering scoreline for German Plus.

All credit to them. Their youth and skill beat us fair and square and if they can keep the line up they will do well against other league teams. DoIt aiming for mid table mediocrity unfortunately. Sid played well at the back with Whibley, and Ronan had probably his worst game for us, hope it has worked its way out of his system in time for the Japan game.
26. November 2005
German Plus - D's Place 6:3 (0:0)
It was again a very friendly league game against D's PLACE. Just 5 minutes into the game D's PLACE took the lead. Luckily German Plus could equalize and a penalty and 2 more goals saw the Germans lead 4:1 at halftime.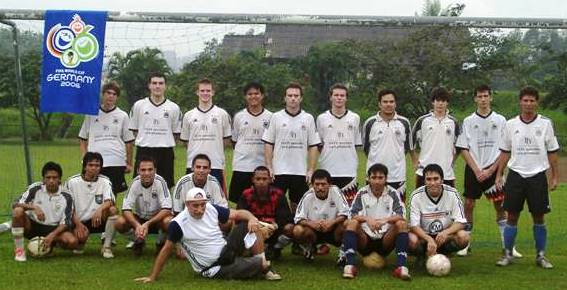 After the break we saw a very focused D's Place and in no time the score was reduced to 4:3. Unfortunately for D's Place (and luckily for German Plus) we could add two more goals to make the final score 6: 3.
German Plus saw the gentleman from Cameroon as the man of the match for D's Place.
Thank you Niko: We enjoyed your game.
Some words on some of our players: Ian held the defense together, Our twins on the right and Darius, Thomas, Elia on the left pushed the ball through the midfield to provide scoring chances for Fredi, Irfan, max and Salomon.
Players
Goali: Mulyono
Last man: Iron Ian
In the back: Niko, Ingo, Herman, Ardi, Mattia Midfield - left: Thomas, Darius, Elia Midfield - center: Salomon Midfield - right: the twins from Saarland, Markus and Matthias In front: Fredi, Max D, Tobi, Irfan
Scorers
First goal Fredi (corner and goal), 2nd Salomon (alone against the D's Place defense), 3rd goal Ian (shot from 25 m), 4th goal Fredi (penalty), 5th goal Fredi (shot from distance), 6th goal Fredi (from the side line)
Wish you all a pleasant first advent and a nice week Dieter
12. November 2005
German plus - Japan 6:0 (0:0)
Als Einstimmung zunächst ein Auszug aus den "JIFL News N°7. Vol 2. Season 2005-06" (von Dale Mulholland):
"This weekend will be another big week in the league. Deutschland Plus storms out to Sentul Stadium to battle former allies Team Japan in a battle of the former Axis powers and a share of 3 points. Player / Manager Dieter 'Methuselah' Cremer, who has played 1,983 matches for German Plus, seems to be under some pressure from his club if the performances don't pick up very soon and I have heard (might have even fueled) some rumors of an imminent coup d'état in the works just coming to a boil behind the scene in the German camp. Stay tuned for next week's ongoing drama and the nail-biting conclusion of this cliffhanger in the works."
Dieters Spielbericht:
After some changes in the team, German Plus again on the run. Our first test game with the new Formula 1 German Plus Team showed a satisfactory result. With 6:0 (0:0) German Plus won in old style. Two goals from Irvan and a goal each by Frederic, Salomon, Markus and Matthias. A beautiful day and a very friendly game with no cards.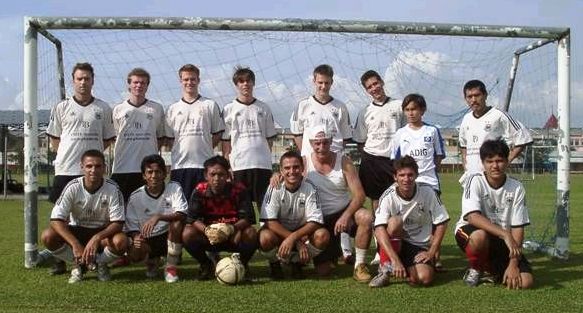 Players:
Niko, Ingo, Ardi, Chris, Ian, Tobias, Darius, Herman, Matthias, Salomon, Marius, Markus, Frederic, Max D., Stefan and Irvan
22. Oktober 2005
German Plus – Knudde 0:4 (0:3)
Even without 8 of our young players (party at the German school) we finally managed to have a full team with the assistance of 2 Americans, 1 New Zealander and 2 German guest players whom we had met the night before in our Friday hide away.
| | | |
| --- | --- | --- |
| | | |
| Ian, Fredi und Stefan | Luke und Karl - USA-Importe | Stefan und Ralph |
Thanks to Kai the 2 Germans had been introduced to the taste of night life the evening before the game. Their condition on the pitch was accordingly.
Frank a former keeper could impress with his goalie skills, however, Bernhard a midfielder had some problems in the beginning to follow the fast Indonesian player of Knudde. To both of them: "Thank you very much!" I am sure they enjoyed the night life as well as the game.

Our new import Isaac from New Zealand played very well and will hopefully join G+ as he had already promised some month ago. The 2 American football players showed their running skills and nearly managed to score 2 goals; however, in American football you can use your hands. We hope they both enjoyed the game and the beer.
Fredi managed to score his first goal for German Plus in the new league season. Unfortunately, the referee saw it differently, that's why we still have to wait for Fredi's first goal. He will leave for Thailand for a special goal scoring seminar next week (and will also meet his girlfriend).
Ralf, also still waiting for his first league goal for German Plus, is lucky as there are still many chances to come. Ian, the midfield engine, was trying to defend, pass the ball in the midfield and score a goals (in Indonesia you call this three in one).
Stefan tried his best but was unlucky with several shoots. Our Indonesian players are affected by the fasting month. In front Andre, with Isaac on the right wing, missed a header before the empty goal (on Wednesdays he never misses). Patrick, the Stubenwirt, after missing several games played second half in defense.
Der offizielle Bericht von Howie:
For the match played at Sentul in a good atmosphere both teams showed up with a squad of around 16 players each, German Plus due to the party at the German school with no youngsters at all.
German Plus players:
Dieter - Stefan - Ralph - Andre - Isaac - Ian - Frederic - Carl + Luke (guest players from America) - Bernhard Breit + Frank Hartmann (guest players from Germany - Frank second half in goal) - Patrick - Mulyono - Ardi - Irfan - Hermann
Knudde took the lead with their first attack after just two minutes. Once again the German Plus defence looked very bad. An unstoppable rocket shot by Tony after 15 minutes made it 2-0 for Knudde. Ten minutes later German Plus scored a clear and correct goal, but it was denied by the referee team, something what even Knudde players couldn't understand. Shortly before the break came the knockout for German Plus with another beautiful goal scored by Tony.
Halftime 3-0 for Knudde.
Second half German Plus played better, but after just ten minutes it was 4-0 for Knudde and later our goalkeeper wanted to give a present to Knudde, however, Knudde denied acceptance and only hit the post.
12. Oktober 2005
German Plus – JIS 0:3 (0:1)
Zunächst Dieters Bericht ...
Mit unserem neuen Team (die Jungs von der DIS – Deutsche Internationale Schule Jakarta) haben wir gestern über weite Strecken nicht schlecht ausgesehen und hätten mit ein bisschen Glück eventuell auch das eine oder andere Tor geschossen.
In der Spitze spielten Fredi (viel gearbeitet aber leider kein Tor) , Tobi (das erste Mal im Sturm und richtig Dampf gemacht) und Maxi (danke an seine Eltern, der Stürmer mit dem Nachbrenner), in der 2ten Hälfte stieß Ralf mit in die Spitze vor (konnte das eine oder andere Mal seine technischen Ballkünste vorführen, kommt hoffentlich jetzt wieder regelmäßig und ist eine gute Ergänzung für die Spitze).
Leider waren unsere Sturmspitzen von Pech verfolgt. Fredi, Ralf und Tobi wäre es zu vergönnen gewesen, das eine oder andere Mal den Ball ins Netz des Gegners zu legen.
Die Kombinationen eingeleitet durch den Mittelfeldmotor Ian hätten ein paar Tore verdient gehabt. Es hat nicht sollen sein.
Im Mittelfeld glänzten, Andre (unser Kopfballspezi, 1 x am Tor vorbei), Stefan (Gastspieler mit Rieseneinsatz ), Darius (hat sich auf der Außenlinie fast 80 Minuten abgerackert), Max (kommt langsam aber sicher auch in Fahrt), Marius (hatte ein bisschen Blei in den Füssen).
Hinten – Niko (wie immer ein Bollwerk) hatte alles gegeben, Herman (hatte es nicht einfach gegen die langen JISler und dann noch aus lauter Verzweifelung ein Eigentor). Dieter (vermisst seinen besten Freund Chris, den Schweizer Terrier, in der Hintermannschaft).
Unser Goali Marko von Bayern ("Man of the Match") konnte den ersten Ball nicht halten, nach einer Superkombination zu Mitte der ersten Hälfte, das zweite Gegentor schlug 5 cm über seinem Kopf im Tor ein, die linke Faust lenkte den Ball ins eigene netz. Das dritte, wie gesagt ein Superlupfer von Herman über Marko, eigentlich das schönste Tor.
Zusammenzählen könnt ihr selbst, das nächste Spiel wird nach diesem wohl hoffentlich letztem Aufbauspiel gewonnen. Danke an alle Spieler und Kai, die Schlachtenbummler Kuddle, Ruthchen und Jenny und natürlich unserem Kassenpoli – Howie.
... der Howie zu einem taktischen Tipp veranlasst:
Dear Dieter,
thanks for your nice report, however even if we appreciate optimistic people like you, please stop seeing the world through rose-tinted glasses.
We are off to the worst start to a league competition ever, we have conceeded 15 goals in only 5 matches and in the standings we are on 10th place out of 11 teams.
We have serious problems, particularly in our defence and here we need some urgent changes. We should go back immediately to the system introduced by Glenn and to which we - in my opinion - already agreed earlier:
The captain (you) nominates the starting formation, best would be in cooperation with the vice captain and some seniors maybe. All substitutions will then be made by someone - nominated by you - who is not playing, from the side line. Please introduce this system urgently again.
Cheers,
Howie
Und dann noch der offizielle Spielbericht:
The match was played on the fantastic pitch of the Jakarta International School in a very friendly atmosphere, no cards shown.
The first 20 minutes were balanced between the two teams, in the 25th minute JIS took the lead supported by weak defending of German Plus. Half time 1-0.
5 minutes into the second half more support was granted to JIS when our goalkeeper let a relatively easy ball pass through. He however later in the match produced some fine saves and was awarded man of the match. To round things up: After one hour or so we produced an unstoppable own goal. The victory for JIS was however deserved and it is clearly visible that German Plus has serious problems with the defence.
Referee rating: 9/10
Players: Marco - Nico - Stefan - Dieter - Marius - Hermann - Andre - Ian - Darius - Frederic - Tobias - Max Damme - Elia - Max Engisch - Ralph
8. Oktober 2005
German Plus – Vikings 0:1 (0:1)
The Vikings - with a lot of new players - were very eager to win this match, just as German Plus. A corner kick at the end of the first half finally found its way into the German net. That was the only goal and the lucky strike for the Vikings.
This time only one goal against our new team and, lucky for the Vikings, the post saved a shoot by Andre just seconds before the final whistle.
It was a very friendly game as usual against the Vikings (except for Axel with one yellow card which should have been two).
17. September 2005
German Plus – BuGils 1 : 2 (1 : 0)
Dieters report:
With nearly all players on stage, we were not very lucky again, even dominating the first half, but didn't score enough goals, a penalty kick from Fredi (just back from 4 month holiday) brought us a well deserved lead. The first half ended 1:0 and we all expected to add some more goals in the second half.
A little bit overconfident, we did not take much care about our defense and a sudden counterattack caught us (1:1). The game was open again. However G+ did not change to play defensive and tried very hard to score a 2nd goal.
Again BuGils with a counterattack and the score was 1:2. That's how it works sometimes in soccer not considering a possible loss.
After the game we had some sausages and enough beer to celebrate the return of Ralf, Fredi and Kai.
Not a very promising start in the league but we are sure to iron out our handicaps.
Players
Back - Ardi, Niko, Ralf, Dieter, Elia
Midfield - Marius, Darius, Salomon, Ian, Max Damme, Tobi
In front - Irvan, Max Engisch
… and Howies report:
It was raining most of the time, but the conditions were good.
We had a full squad of 20 players available, but only 16 of them made their appearances. German Plus took the initiative right from the start and put some pressure on the BuGils Team. BuGils were only able to produce some sporadic counter attacks. A yellow card was correctly shown to a BuGils player for a very ugly tackle on our goalkeeper. German Plus finally was rewarded for their efforts shortly before the break when converting a penalty into the BuGils net. 1-0 at half time.
The joy didn't last long as 5 minutes into the second half BuGils took advantage of some confusion in our defense and scored the equalizer. The second half was more balanced than the first one and after 20 minutes into the second half BuGils went 2-1 in front.
German Plus threw all forces into the attack on the BuGils goal, but could only produce some fine shots which however missed the target. At the end German Plus had to concede the second defeat of the new season.
And finally, BuGils version of the game:
Aside from several bad decisions (which are of course inevitable), the referee did not have a strong control of the match. He was easily influenced by players from both teams shouting their appeals to him, thus losing the respect of the players. While BuGils don't like to moan about the referees, for the first time in our reports, we would like to respectfully request that this ref is not chosen again, especially if the other 'usual' refs are available.
THE GAME: BuGils started brightly with our new signing Neil in midfield, but the Germans pushed hard and played their usual neat football around us. We were a little aggrieved at the penalty, but I took responsibility for cropping the German forward. 1-0 at half-time.
A tactical switch at half-time, with Neil pushing up front brought rewards as his skill and pace threatened the German goal. Neil finished a decent move to bring the believing BuGilians back level. In a second half of attack and counter attack, Will squeezed a rebound in at the far post, leaving BuGils with 20 minutes to hold on at 2-1. The Germans threw everything forward, but the BuGils back 4 resolutely defended our lead.
Our first win against the Germans in our history!!! The Germans were sporting losers and played fairly throughout.
10. September 2005
German Plus - Wanderers 0:9 (0:4)
After all our players celebrated the birthday of Niko (thanks for the invitation and happy birthday to you) until early morning Saturday, I think it also effected our 2 x 40 minutes against the Wanderers.
First, the Wanderers had a narrow escape – 20 minutes into the game, it could have been 1 or 2:0 for G+. However with our super young team against the professional team Wanderers, we made mistakes which resulted in 2 counter attacks and all of a sudden it was 0:2.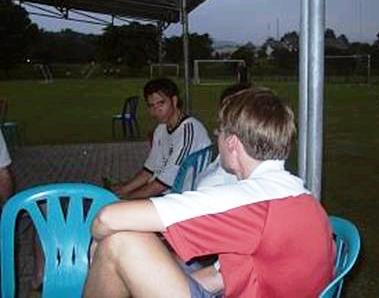 Two additional players from Uganda (1 played at the world cup in 94 and the other also an outstanding player) caused us even more problems. By the end of the first half the score was 0: 4, which I honestly think does not represent the quality game G + played.
Considering the 4 goals, I decided to let all player play, except, I must apologize, Howie (sorry Howie). The second half we still tried to score, but on this very day, we had no luck. But the Wanderers scored another 5 times. I believe it was – with the exception of the score - a nice game in a very friendly atmosphere.
We have a new player from South America, from where the all the outstanding player in this world are coming. His name is Salomong and his German wife is Isabelle. We hope he will enjoy playing with the oldest expert German soccer club (41 years).
Marko our goalie from Bayern Munich was man of the match. After the game we had some 200 Nürnberger Würstchen and Bintang beers.
Players: Adrian (new player), Simon (new player), Salomong (new player), Ian, Dieter, Tobi, Max Cremer, Mattia, Elia, Marko, Christof, Darius, Marius, Irvan, Herman, Ardi
... and the "official" report by Howie
Match played yesterday at Sentul. The other match played at the same time Japan beat the Vikings 2-1.
MOM:
German Plus: Marko Hegemaier (goalie!!!!)
Wanderers: Manny
Referee rating: 7/10
No cards
Well, we thought that after our good start to the new campaign we maybe could trip up the Mighty Wanderers again like we did last season when we drew twice with them and consequently JIS became the Champion. Yeah, let's say "almost".
Wanderers played with our former player Germano Frasson as well as with Cameroon former international Jules Onana, who joined the world cup finals in 1990 + 1994. For the first twenty minutes we were even dominating the match and missed good chances by Darius and Irfan. We were unlucky not to score; with the Wanderers it was different as basically every shot on our goal went in! 25th minute: Marko could not hold the ball; Tommy converted the re-bounce (0-1).
30th minute: A fine header by Manni (0-2). 32nd minute: 0-3. The German Plus "defense" organized by Dieter collapsed. I heard Dale telling his team-mates "today we are making it 8". And Dale was damned right!! 35th minute: another nice shot (0-4). 40th minute: Dale scored (0-5). Half time and we were licking our wounds.
It took the Wanderers ten minutes into the second half to make it 0-6. Then after I stopped recording the events, further goals came 0-7, 0-8 and 0-9. Final score: German Plus vs. Wanderers 0-9. I played the first match for the German team back in 1982, but during 23 years until now I cannot remember any similar humiliating defeat. A black day in the history of German Plus!
All credit to the Wanderers though; I think we lost against the new champion. Cheers, Peter (German Plus)
7. September 2005
German Plus – Jakarta Xpats 5:0 (3:0)
Opening league match of the new season
German Plus players:
Ardi - Irfan - Hermann - Marko - Dieter - Nico - Chris - Ian - Marius - Darius - Mattia - Tobias - Patrick - Christoph - Leo - Maxi Cremer - Elia - Maxi Engisch - Howie
A nice evening, a perfect pitch and a good match. The Wanderers dispatched Bernhard as a spy to check the German Plus team condition and I believe Bernhard was certainly impressed.
It was one way traffic basically the whole match with sporadic counter attacks by the X'PATS, who have a much better team than last season. First goal for German Plus scored by our vice captain Ian after just 20 minutes. Second one came from Max Engisch just 5 minutes after entering the field. Marius scored the third one for German Plus, so half time it was 3-0 for German Plus.
Same picture after the break. An offside goal was correctly not given, then after at least 4 crystal clear chances for Tobias, Darius and Maxi Engisch, but all missed.
The X'PATS then once hit the German Plus post, but it was Max Engisch again with another two goals to finish the match.
27. August 2005
Saisonauftakt mit einem Freundschaftsspiel gegen Japan in Sentul
Mit unserem neuen Dream-Team konnten wir gestern gegen Japan nicht die von Dieter vorgegebenen 10 Tore schießen, 3 langten jedoch um den Sieg und den Abschied von Chris mit Nürnberger Würstchen und deutschem Bier zu feiern.
Das erste Tor, ein Elfmeter, wurde von Ian, der im Mittelfeld jetzt die Bälle an unsere schnellen Außen verteilt, eiskalt verwandelt. Der Schiri, der alte Fußballprofi Franki, oder besser als "silent frank" bekannt, ließ sich von den Einwänden der Japaner nicht beeindrucken.
Dann das zweite Tor von Swen, eingefädelt durch die Rechtsachse Swen und Marius. Eine Reihe von Superparaden des japanischen Keepers verhinderte einen weiteren Rückstand vor der Pause.
Unser Torwart Marko aus Bayern wurde kaum geprüft und hielt den Kasten auch über die gesamte Spielzeit sauber.
In der zweiten Hälfte konnte das Torverhältnis dann noch nach oben korrigiert werden, 2 unserer Stürmer konnten trotz 100 %iger Chance sich nicht einigen, wer nun den Ball im Netz versenken sollte, den Gefallen taten uns dann die Japaner mit einem unhaltbaren Eigentor (und noch dazu dem schönsten Tor des Tages).
Danach ging's zum gemütlichen teil über, der Grill wurde angeschmissen (auch einmal umgeschmissen) und Franks bessere Hälfte fungierte als Chefkoch, 200 Würste wurden in "no time" eingeatmet und die Kühlkiste mit dem Gerstensaft trocknete dann auch sehr schnell aus.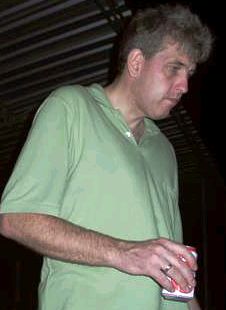 Chrisi unser Schweizer "Backbone" bekam zum Abschied seinen Bierkrug, und wie auf einem Photo gut zu erkennen ist, wird er sich mit einem weinenden Auge von German Plus verabschieden. Wir werden ihn auch vermissen.
Übrigens hat Chris uns alle nächsten Sonnabend zu sich nach Hause zur Henkersmahlzeit eingeladen, es gibt Gegrilltes, Bier und einen Event. Zudem ein paar flüssige Pflaumen.
Spieler:
Tor - Marko
Hinten - Niko, Ardi, Christoph, Patrick, Volker, Chris, Elia, Ingo
Mittelfeld - Ian, Max cremer, Max Damme, Tobias, Moritz, Swen, Marius, Donni, Darius
Sturm - Howie, Irvan, Leo
... und da war dann noch der Abschied von Colya, Yves, Dirk und Floh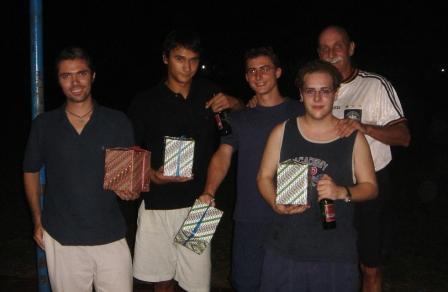 (von links und bereits in Zivil, Juli 2005, Ciputat)