Saturday, December 1, 2007, at the Britisch International School
German Plus - Doit United 0:6 (0:5)
Yellow card: Ralph Scheunemann (G+)
Red card: Ralph Scheunemann ( G+)
Refree: 6/10
Man of the Match: Mathias Cremer (G+)


Planed kick off 15.30 at BIS, great start before the match ! Why?.....because Doit had a complete team, in contrast to the G+, the team consisting of only 7 players and a big disaster was coming up. Good will of Doit they postponed kick off 30 min later and offered us some of their players to join our G+ team. Meanwhile our indonesian players arrived and thanks to Doit all of them where allowed to play the game.
First half G+ didnt play bad but Doit scored after 20 min. G+ collapsed early and many moments where of disaster and only a few moments of impressive football, Doit took one chance upon another chance and scored goal after goal and the interim result was 5-0 for our opponent.
Second half no sensational scene except the red card for Ralph (G+) a disagreement with the refree and G+ where down to 10 men later Doit scored again and final result was 6-0. A total disaster for G+ records and we cant wait for the rematch.


Saturday, November 17, 2007, at Sentul
German Plus - Team Japan 3:0 (0:0)
Dear All,
played yesterday on the nice pitch at Sentul. First time ever I can remember in recent history: No rain !! First half saw equal ball possession by both teams. Shortly before the end of the fist half Darius of German Plus hit the woodwork with a fulminant cracker.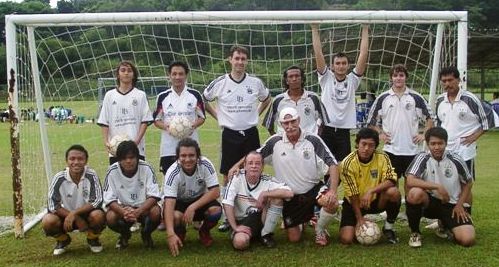 Half time: 0-0
10 minutes into the second half German Plus took the lead thanks to a nice header of Michael. Only 5 minutes later it was Rico who hammered home a rocket from approx. 25 meters, unstoppable. Team Japan had their chances, but 10 minutes later it was 3-0 for German Plus after a perfect pass from Rico, well finished by Frank. Team Japan kept attacking and an offside-goal was correctly not given. They had further 100% chances, but our keeper Fikri, who played a perfect match, denied them a well deserved goal. A fair match, no cards, the referee a little bit in favour of German Plus all the time. Please send him in future to all our matches.

German Plus scorers: Michael Günther, Rico Novian, Frank Kleinteich
German Plus MOM: Fikri
Cards: None
Ref. appreciation: 9/10
Wednesday, November 14, 2007, at ISCI
German Plus - FC Wanderers 1:5 (0:3)
Dear All,
basically agree with the report of Mike below. However German Plus didn't play that bad and also had their chances. But not strong enough for the mighty Wanderers, their victory well deserved.
German Plus MOM: Mathias Cremer
German Plus scorer: Darius Kartoprawiro
German Plus yellow card: Marcel Mueller-Heywes
Referee appreciation: 8/10 Peter, German Plus


Luckily we got the first rain free night in Jakarta for a few days with blustery winds felling trees, however, such winds couldn't blow the Wanderers title ambitions off track. Many moments of total football and a few muppetlike moments were interspersed by Hernan (MOM) finding the net. The first was a classic header cross goal from a corner - the others were indescribable. The other Wanderers wannabe scorers had a bleak nite as chance upon chance was squandered - President eventually getting the Wanderers 5th goal on his 23rd attempt. The defence was superb and the only blemish was a late German goal, which although a couple of meters offside, was a goal.

Other highlights or lowlights included Max playing with only a left peg as is right un was injured while having sex before the game, Prez and Husen sporting new haircuts, Dale bickering with himself or was it his alter ego, a natural hattrick from Hernan "CRESPO" - a rarity indeed, the 4th player to pick the team this season, no lost balls, the youngest Wanderer Nico turning 16 yrs old & 6 players only arriving before the official k.o time as they were all warming up in their cars.

Mike (Wanderers FC)

Saturday, November 3, 2007, at the German International School, Serpong
German Plus - D's Place 4:6 (1:3)
Both teams started with just eleven players and looking at our start-up team I was expecting a major desaster. We even had to field a sponsor of German Plus, who never ever played before and just jumped in to make sure we could provide a full squad of eleven. And I was right, D's Place took the lead after just 15 minutes and added another one shortly thenafter. German Plus could stroke back after a mistake by the goalkeeper of D's Place. One more goal made it 1-3 at halftime.
Break
Some more players for both teams arrived.In the second half German Plus collapsed:
1-4, 1-5, 1-6 but then suddenly woke up again: 2-6, 3-6, 4-6
Ten minutes more and probably we would have equalized, but so the points go to D's Place.
Yellow cards: German Plus 1 (Jörn)
Scorers German Plus: Dominik, Andre, Frank K. (2)
Man of the Match German Plus: Marce
Referee team: 7/10
Saturday, October 27, 2007, at the German International School, Serpong
German Plus - BuGils 2:3 (0:2)
Bugils had available a squad of 16 players against just 12 players of German Plus. German Plus didn't play bad in the first half, but Bugils scored. 0-1 after 20 minutes, 0-2 after 35 minutes
Break
Then after approx. 8 minutes into the second half the scene that probably broke the neck of German Plus. Out of a distance of only 2 meters we only hit the crossbar and the following attack put Bugils 3-0 up. German Plus still fighting, 1-3, shortly thenafter 2-3 10 minutes later. Pressure by German Plus, a wasted free kick, then on the meanwhile rare counter attacks Bugils hit the crossbar, final score: German Plus - Bugils 2-3 A draw would have been deserved. Match played in good spirit.

Man of the Match German Plus: Mathias Cremer
German Plus scorers: Dominik Schill, Mathias Cremer
Yellow cards German Plus - Stephane Bennin
Referee team: 7/10
German Plus team: Maxi, Howie, Frank, Stephane, Marcel, Moritz, Mathias, Dieter, Patrick, Herman, Mulyono, Dominik
Saturday, October 20, 2007, at the German International School, Serpong
German Plus - Team Arario Korea 5:1 (0:1)
Played in good spirit, on a perfect field and with weather conditions at the German school in Serpong. German Plus took control from the very first moment, but lost it after about 10 minutes. Ball possession was equally distributed and Team Arario took the lead after 20 minutes thanks to an unstoppable bullet. 10 minutes later German Plus hit the post, but that was all for the first half.
After the break only very sporadic attacks by the Koreans, but German Plus as well had no recipe at hand how to create goals. That changed only during the last 15 minutes of the match. Team Arario run out of breath and collapsed. 1-1, 2-1, 3-1, 4-1 (penalty), 5-1
German Plus goal scorers: Helmut Saathoff (3), Timo Scheunemann, Darius Kartoprawiro
No cards
Man of the Match (G+): Ralph Scheunemann
German Plus squad:
Patrick, Andre, Moritz, Jörn, Herman, Marcel, Michael (Embassy), Ralph, Darius, Timo, Kai, Frank, Helmut
... and some additional remarks by Dieter (translated from German):
Farewell to Bernd our grill master, plum cake and what a game against the Kim's and Lee's. A few initial problems, but after the half time break the turbo was ignited.

First goal our star forward and reason for some farewell tears, Helmut. Then Timo did not let himself ask twice and fired a 25 meter bullet into the Korean goal. Shortly after, Helmut again twice and a final touch by Darius: 5:1. Thanks also to Patrick, our first time goalie during a league match.
Saturday, September 29, 2007
German Plus - Lions 4:3 (2:3)
German Plus showed up in their traditional black and white dress, unfortunately LIONS showed up in a silver outfit, so very difficult to differ between the teams. Therefore GERMAN PLUS collected their red uniforms later. No referee team showed up, first half LIONS provided a referee, second half GERMAN PLUS provided Karlheinz.
GERMAN PLUS with the first big chance, but Yannick only hit the post. First goal came from the LIONS after about 15 minutes. 0-1. Mathias around 5 minutes later then equalized. 1-1 Thenafter another 100% chance for GERMAN PLUS, but again Yannick could not convert it into a goal. Instead after a terrible mistake by our goalkeeper, the LIONS scored again. 1-2. Thenafter another mistake of our defence, 1-3. We replaced our goalkeeper and put Patrick into our goal, who made some good saves later in the match. A well taken penalty by Ralph then brought GERMAN PLUS back into the match. 2-3.
Break
And GERMAN PLUS turned the match around: 3-3 after another nice effort by Mathias, 4-3 through Yannick. Another goal for GERMAN PLUS was denied when Ralph hit the crossbar.
GERMAN PLUS MOM: Yannick
GERMAN PLUS LINE UP:
Karlheinz - Ralph - Moritz - Jörn - Kai F. - Patrick - Yannick - Andre - Dominik - Mathias - Dieter - Maxi - Stephane - Herman - Bayu - Ardi

Monday, September 17, 2007
German Plus - Viking 1:0 (0:4)
GERMAN PLUS CLEARLY WON
or
SWEET REVENGE FOR THE VIKINGS

German Plus MOM: Moritz Zimmermann

A hopeless over demanded German Plus team with just 13 players against a 20 head strong Vikings army. The strongest Vikings team I have seen for several years.
Score sheet opened at the first Vikings attack on the German goal. A long long loop, which didn't look dangerous in the beginning finally found it's way into the German net. After six minutes the already weak German Plus team was reduced to just
12 "players" when two Vikings crashed with our player Jörn, who injured himself badly. It has to go into the records that the Vikings played very rough and some yellow cards were appropriated. However the referee didn't show any during the entire match. 2-0 for the Vikings after just 12 minutes, 3-0 after 20 minutes. The fourth goal was clearly offside, half time 4-0.
Then German Plus had their first 100% chance of the match, but failed to score. Vikings though, did: 5-0 after 65 minutes, 6-0 after 70 minutes, 7-0 after 75 minutes
The remaining German Plus troops defended bravely and they even scored a consolidation goal. Jesper then gave German Plus the coup de grace with a bullet out of 25 meter distance. Final result: Vikings - German Plus 8-1

Why German Plus clearly won? That was referring to the post match drinking competition which was clearly dominated by the losers. Why sweet revenge? That refers back to the early nineties when German Plus was league champion 4 times and when we beat the Vikings 8-0 at their home ground at Country Woods Estate. Long long ago....
Wednesday, September 12, 2007
German Plus - JIS 3:1 (1:1)
First game of the season played with a very late kick off at JIS, thanks for the understanding from German+, but it was out of our hand since the opponent from the varsity boys came late too. Anyway, Kick off after 9pm, as in the Champions league, and both teams looked a bit rusty in the first 20 minutes. German+ hit the post, but in the 25th minute a fine pass from Slusher found Gordy and his chip made it 1:0 for JIS. Just before halftime JIS lost the ball in midfield, nice passing to Mathias who run through 2 JIS defenders and 1:1 halftime. Also the highlight of the first half was a back pass from JIS player Gray to the keeper Andreas, but somehow the ball found the corner flag, very impressive, that's how you confuse strikers, tricky english guy.
Blitzstart from JIS, our Uli (Toni Polster) Pfeil scored nicely to make it 2:1, one offside goal from german+ was disallowed, and most of the clear chances were with JIS in the second half. A fine 1-2 between Jurrien and Gordy, and Gordy made the final score 3:1 for JIS. A fine fair first game
MOM G+: Mathias Cremer