------------------------- 10. Dezember 2005 -------------------------
or: one rainy afternoon in Sentul *
When the day, it was the 10th of December 2005 started, it had, if you are intrigued by the Jakarta International Football League, all the ingredients of excitement. There was the smell of an ancient and eternal competition in the air. Germany was pitched against England at the foothills of the South Jakarta highlands. With a win the young German team could continue their successful run out of the bottom of the league table, the British lads until the season before were vying for 2nd place. However, the weather, as it turned from sunny breeze to rainy storm in the afternoon, cooled of the suspense – at least one would have thought so. more ...
* a hamlet some 40 km south of Jakarta
------------------------- 3. Dezember 2005 -------------------------

German Plus - Doit Satu Lagi 5:1 (1:0)
Deutschland Rising!!!
(remarks by Dale Mulholland, League Coordintor)
Three in a row. Bags of goals and German Plus back in the running. 6-0 versus Japan. 6-3 versus FC D's Place. And 5-1 versus DOIT Satu Lagi. Wow! What a complete turnaround after a horridly disastrous start to the season and, just as I predicted in Newsletter No. 5, Deutschland would be back. And they are. With 40 years of Jakarta football history behind them, can anybody expect less of the oldest surviving member of the JIFL (and coached by the oldest man in the universe)?
3. Ligasieg in Folge ... G+ schaut wieder nach oben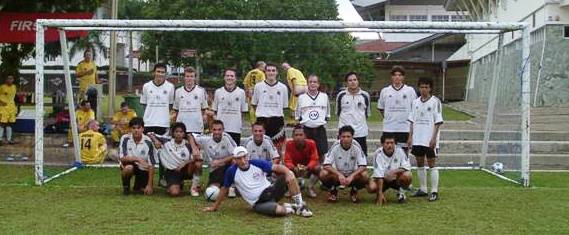 Again a very friendly game against DO IT UNITED, unfortunately 1 yellow card, sorry. As usual a tough game against the big guys from DO IT. First half we managed to score 1 goal, a lucky shot from 25 m, which - for him - unfortunately passed the DO IT goalkeeper. ... mehr
------------------------- 26. November 2005 -------------------------
German Plus - D's Place 6:3 (0:0)
G+ weiter auf der Siegstrasse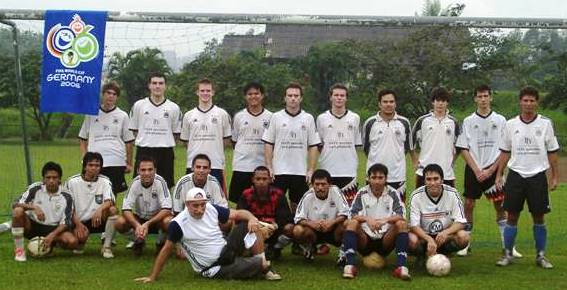 It was again a very friendly league game against D's PLACE. Just 5 minutes into the game D's PLACE took the lead. Luckily German Plus could equalize and a penalty and 2 more goals saw the Germans lead 4:1 at halftime. After the break we saw a very focused D's Place and in no time the score was reduced to 4:3. Unfortunately for D's Place (and luckily for German Plus) we could add two more goals to make the final score 6: 3. ... mehr
---------------------- 18. - 20. November 2005 ------------------------
Kimchi Kickers Korea in Jakarta
This weekend we had Kai's former team from Seoul - the famous Kimchi Kickers Korea (KKK) - visiting us. It started with the welcome party on Friday evening at Taverne, however only Andre, Kai, Marc, Ralph and myself were present to welcome the 9 guys from Korea. There, they already got some nice impressions of Indonesia, so after Taverne was closed, they all decided to stay in the hotel and prepare for the match.
That was held at Ciputat Saturday afternoon and according to Kai the target of KKK was to score a goal, ... mehr
--------------------------------------------------------------------------------
Man schrieb das Jahr 1964 als einige deutsche Geschäftsleute in einem Hotel in Jakarta den GFCD Concordia, der heute den Namen German Plus trägt, gründeten. Das war zu einer Zeit als Deutschland nur einen Stern des Weltmeisters auf der Brust trug (heute sind es immerhin 3) und in Jakarta noch niemand von Wolkenkratzern, bunten Neonlichtern und endlosen Verkehrsstaus (alp)träumte.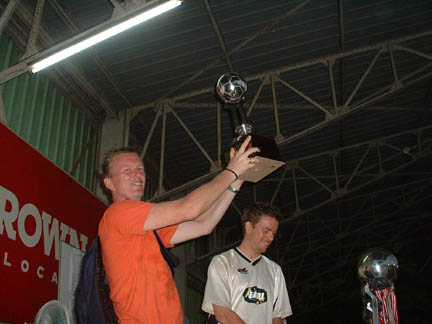 Vieles hat sich seitdem verändert. Doch German Plus ist immer noch ein Anziehungspunkt für Fußballbegeisterte aus Deutschland und - wie der Name schon sagt - auch aus Indonesien und allen anderen Ecken der Welt. Der Verein ist so etwas wie ein Botschafter des deutschen Fußballs in Indonesien geworden. In den meisten Spielen über das Jahr, und das sind rund 80, tritt man gegen indonesische Mannschaften an.
Einmal, in den 80er Jahren, trat die Truppe auf einer ihrer Reisen durch Indonesien gegen ein Team aus Flores an - wie gewohnt im deutschen Nationaldress. Und wurde glatt mit der deutschen Nationalmannschaft verwechselt. Unter dem Jubel von fast 15.000 Fans gewann das lokale Team gegen die mächtigen Deutschen.
Wenn German Plus gegen indonesische Teams antritt, sieht man immer auch die unterschiedlichen Spielauffassungen zwischen Asien und der Alten Welt. Taktische Disziplin, Kraft und kompaktes Spiel treffen auf Schnelligkeit, Beweglichkeit und geschickte Ballkontrolle. Doch eine Schwierigkeit haben die indonesischen Spieler immer: Die Größe ihrer teutonischen Gegner zu kompensieren. Diese überragen sie meist um einen Kopf und je näher das Spiel dem Tor kommt, desto mehr macht sich dies als Nachteil bemerkbar. Früher machte dieser Vorteil das Alter zugunsten der weitaus jüngeren Indonesier wett. Doch heute ist das deutsche Team im Schnitt jünger als je zuvor, der Großteil der Mannschaft rekrutiert sich aus Schülern der Deutschen Internationalen Schule Jakarta.