These statistics are meant for browsing in the past. Reminding us of players who have left their marks, on the field as well as of it, but also of the guys who have just joined for a short while, maybe only a game or two - for the fun of it.
The data has been prepared with care. However, do not expect the final accuracy. The existing records are rather comprehensive but they do contain one or the other hole. And they are only numbers, so they will not tell the story behind the players or the club.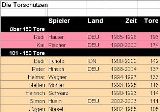 Statistical data on the club is available for the years 1973 until today. By now all of it has been compiled. The following pages are the result of the most comprehensive compilation which has been undertaken over a number of years.
No chronicles seem to exist before the year 1973. But since then members of the club have written down results, players and starting a little later also the scorers. It started out with little folders, turned to the popular German legal letter format (DIN A 4) in the early 90's and today - as one would expect - is compiled on the computer.
Two names have to be mentioned. Hermann Pfotzer, who has passed away much too early (1991), and Peter "Howie" Hinsch. We owe it to them that we still know the names of the many, many players from all over the world who have forged the club. And not only that. We also know how often they appeared for the team, be it under its current name German Plus or the former GFCD Concordia, how many goals they scored and even on which days they played. It is likely that not all the names can be found on the following pages, but the data is comprehensive enough to serve as respectable chronicles of the club.
The games are, with only few exceptions, comprehensively recorded since 1973. There have been more than 2000. Over 60 percent have been won. Less than a quarter were lost. The results over the years have been fairly constant which is in view of the differences in the teams in regard of age, nationality, tactics and technical abilities remarkable. An especially successful era were the 90's, a more weaker phase the 70's when almost a third of the matches were lost. But see for yourself.
Alas, have fun ... browsing!